To describe the constraints on developing consumer battery technology as 'challenging' is an enormous understatement. The ideal rechargeable battery has conflicting properties – it has to store large amounts of energy, safely release or absorb large amounts of it on demand, and must be unable to release that energy upon failure. It also has to be cheap, nontoxic, lightweight, and scalable.
As a result, consumer battery technologies represent a compromise between competing goals. Modern rechargeable lithium batteries are no exception, although overall they are a marvel of engineering. Mobile technology would not be anywhere near as good as it is today without them. We're not saying you cannot have cellphones based on lead-acid batteries (in fact the Motorola 2600 'Bag Phone' was one), but you had better have large pockets. Also a stout belt or… some type of harness? It turns out lead is heavy.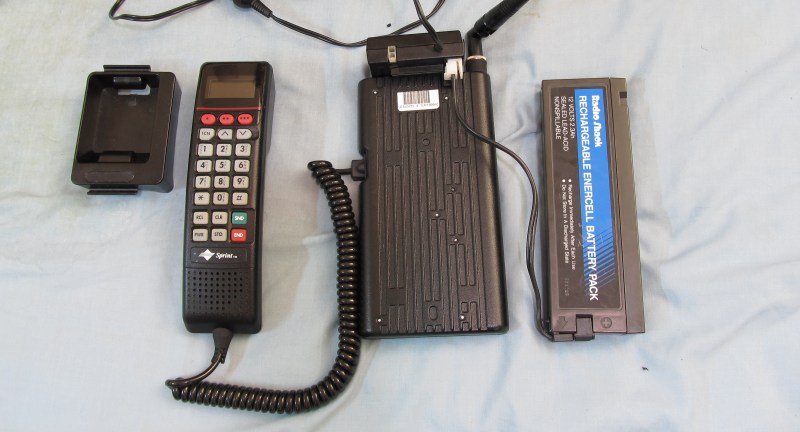 Rechargeable lithium cells have evolved tremendously over the years since their commercial release in 1991. Early on in their development, small grains plated with lithium metal were used, which had several disadvantages including loss of cell capacity over time, internal short circuits, and fairly high levels of heat generation. To solve these problems, there were two main approaches: the use of polymer electrolytes, and the use of graphite electrodes to contain the lithium ions rather than use lithium metal. From these two approaches, lithium-ion (Li-ion) and lithium-polymer (Li-Po) cells were developed (Vincent, 2009, p. 163). Since then, many different chemistries have been developed.
Despite a large number of chemistries, lithium batters still have several parameters in common that are very relevant to using them safely and effectively in our projects. While already familiar to many of our readers, what we will explore today is the reasons behind the characteristics of lithium cells and the rules that govern their safe use. Something less like mysticism and more like materials science.
Capacity: Lithium cells contain electrodes that can store and release lithium ions: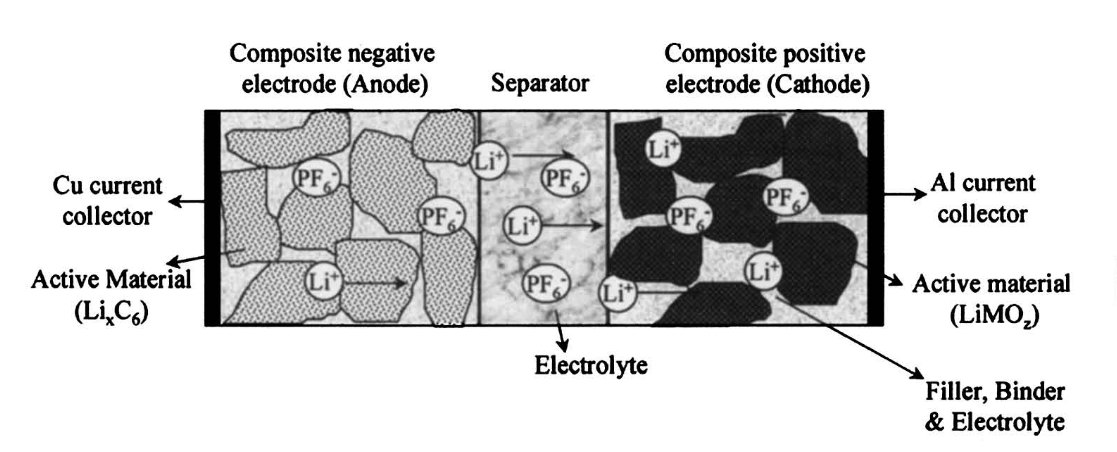 The capacity of the electrodes to reversibly store lithium is the main factor that determines cell capacity since the movement of lithium between electrodes is what causes current to flow (Kang et. al. 2006, p. 977). This is usually measured in milliamp-hours (mAh), the amount of current you can draw constantly in one hour from a fully charged cell before it is depleted. This rating tends to be exaggerated, especially by unscrupulous companies.
C-rate: This determines how quickly you can draw or store current. It is a simple multiplier – a cell with a C-rate of 2 can tolerate a discharge rate twice of that listed as the capacity. For example, in a 200 mAh cell, this means you could safely draw up to 400 mA.
The mobility of lithium out of one electrode, and into the other electrode determines the maximum discharge rate (Kang et. al. 2006, p. 977). This is mainly determined by the composition of the electrode (e.g. LiFePO4), electrolyte, and the surface area of the electrodes (more is better). Surprisingly, the lithium ions do not move far – on the order of micrometers per hour except in cells with exceptionally fast charge rates (and even then micrometers per minute).
It's worth noting that the C-rate to charge lithium cells is typically significantly lower than the discharging rate (although it depends on the exact chemistry used, some are much faster than others). The reverse reaction in these cases is simply slower by nature, or produces unwanted side-reactions more easily. Besides heating the cell to higher than normal temperatures, charging at faster rates risks a permanent capacity loss through several mechanisms, mainly damage to the electrodes (Ning, Haran & Popov 2002, p. 169)
Undervoltage: We're told not to let the voltage of lithium cells drop below a given voltage (varies by cell type but often around 3 volts). This is unfortunate because we're often 'gifted' dead lithium cells registering a low voltage that would be nice to use again, for example in a new flashlight. Even though they may charge again, it's not a good idea to do so.
It turns out that copper foil is generally used in the cells as a current collector. When the voltage drops below a certain threshold, some of the copper in the negative electrode starts to dissolve and migrate. When you then recharge the cell in question, it forms dendrites of elemental copper somewhere they shouldn't be.
In a best-case scenario, this just decreases the ability of the cell to collect current. The internal resistance of the cell may go up, causing more heat to be generated during charge and discharge. In short, the C-rate is decreased.
In the worst case, this will form a short in the cell while it is charging, causing it to fail catastrophically (Arora, White, and Doyle 1998, p. 3658-3659). This may occur immediately, or some amount of time later. Below is the requisite image of that happening.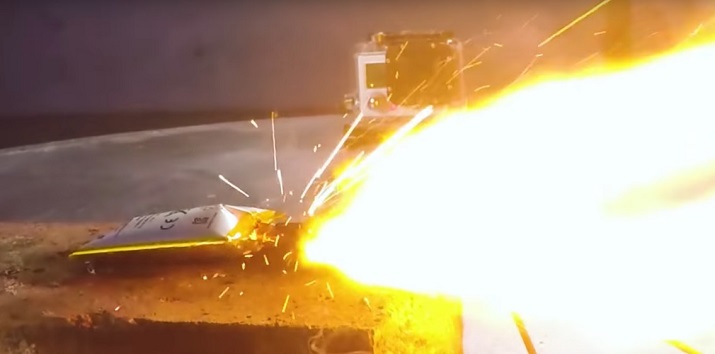 Some (but not all) types of lithium cell have a built-in circuit that permanently disables the cell if the voltage drops too low, as a consumer safety feature. Cylindrical lithium cells such as the 18650 are more likely to contain this type of circuit than pouch cells.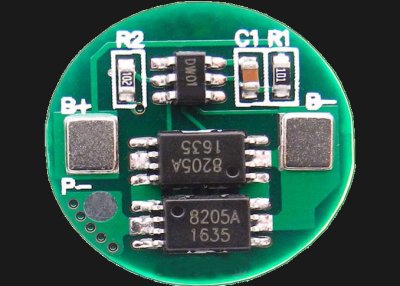 Regardless, it's wise to safely dispose of any cells that are undervoltage. Any cells above that limit are fair game for salvaging.
Overvoltage: Cells can also be damaged if charged to too high a voltage. The reactions that occur depend on the exact cell chemistry, but a common one is the plating of solid lithium metal on the negative electrode, resulting in a permanent loss of capacity. Lithium metal is extremely reactive and can react with the electrode and electrolyte to release heat and gas, potentially leading to a fire.
Another common reaction is the decomposition of the electrolyte. The electrolyte is typically an organic solvent containing lithium salts, so can be electrolyzed (similar to salt water) producing gases and solids (Arora, White, and Doyle 1998, p. 3652). The gas pressure can cause mechanical failure of the cell, and the solids can form block pores on the electrodes, reducing their capacity.
Thermal runaway: Certain undesirable chemical reactions in a cell both generate heat, and occur faster at higher temperatures. Whether this leads to a fire or just a dead cell is an interaction of several factors, typically cell temperature, physical damage, and charge state (Wang et. al. 2012). This is a well-studied aspect of lithium cells due to liability issues, for example in this awesome study that tracks exploding lithium cells in real-time. The charge state is important as current flowing through parts of the cell or a foreign object (such as a nail puncturing a cell) create local hotspots. This is why any cells you receive by mail might be only partially charged.
Manufacturing defects: With the number of things that can go wrong with lithium cells, quality control is critical. For example, one thing reputable companies test for is metal contaminants in between the cell membranes that can cause shorts:
Unfortunately, it's common practice for some shady companies to not only skimp on quality control but list their cell characteristics in a way that's beyond optimism and well into the realm of pure fantasy. Generally, the most affected characteristic is the capacity. On the bright side, as long as you observe caution with regards to under/overvoltage and the C rating, the cells will still work at whatever capacity they actually are.
Swelling of lithium cells: Abusing lithium cells as above can definitely cause swelling, especially in pouch cells. However, even if you use them correctly, a few cells will puff up for reasons that are poorly understood.
Here, the main danger is that the pouch cell is punctured by something nearby. The pressure caused by a swelling lithium cell can also crack screens and warp keyboards. Good manufacturers leave a small void to tolerate small amounts of swelling – we've opened up laptops with (slightly) warped keyboards to find that this small gap probably saved the laptop.
A special note on LiFePO4 chemistries: Some relatively new LiFePO4 cells on the market are inexpensive, charge fully in 30 minutes, and are unlikely to have any thermal runaway reactions. While they store about 80% of the energy of most other lithium cells, they last for 5 times more charge cycles. It would be exciting to see them used in clever projects!
---
References:
Arora, P., White, R. E., & Doyle, M. 1998. Capacity Fade Mechanisms and Side Reactions in Lithium‐Ion Batteries. Journal of the Electrochemical Society. Vol. 145 (10), pp. 3647-3667.
Kang, K., Meng, Y. S., Bréger, J., Grey, C. P., & Cedar, G. 2006. Electrodes with High Power and High Capacity for Rechargeable Lithium Batteries. Science. Vol. 311, pp. 977-980.
Ning, G., Haran, B. & Popov, B. N. 2002. Capacity fade study of lithium-ion batteries cycled at high discharge rates. Journal of Power Sources. Vol 117, pp. 160-169.
Pistoia, Gianfranco. 2016. Electric and Hybrid Vehicles: Power Sources, Models, Sustainability, Infrastructure and the Market, Amsterdam, North Holland: Elsevier.
Vincent, Colin A. 2000. Lithium batteries: a 50-year perspective, 1959–2009. Solid State Ionics. Vol. 134, pp. 159-167.
Wang, Q., Ping, P., Zhao, X., Chu, G., Sun, J. & Chen C. 2012. Thermal runaway caused fire and explosion of lithium ion battery. Journal of Power Sources. Vol. 208, pp. 210-224.