A few years ago, I was out at the W6TRW swap meet at the parking lot of Northrop Grumman in Redondo Beach, California. Tucked away between TVs shaped like polar bears and an infinite variety of cell phone chargers and wall warts was a small wooden box. There was a latch, a wooden handle, and on the side a DB-25 port. There was a switch for half duplex and full duplex. I knew what this was. This was a modem. A wooden modem. Specifically, a Livermore Data Systems acoustically coupled modem from 1965 or thereabouts.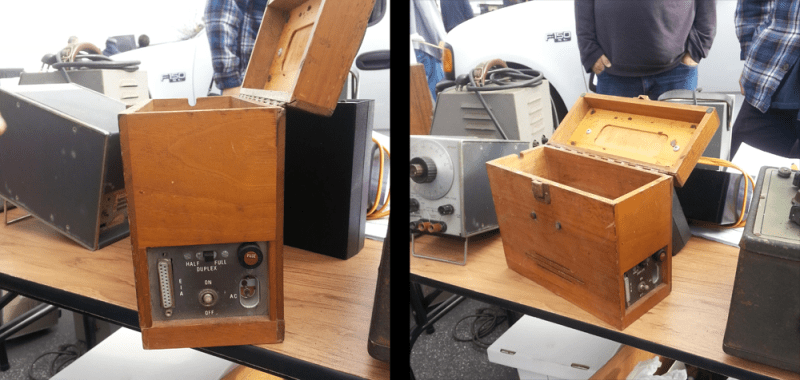 The probability of knowing what an acoustically coupled modem looks like is inversely proportional to knowing what Fortnite is, so for anyone reading this who has no idea what I'm talking about, I'll spell it out. Before there was WiFi and Ethernet and cable modems and fiber everywhere, you connected to the Internet and BBSes via phone lines. A modem turns digital data, in this case a serial connection, into analog data or sound. Oh yeah, we had phone lines, too. The phone lines and the phones in your house were owned by AT&T. Yes, you rented a phone from the phone company.
90s kids might remember plugging in a US Robotics modem into your computer, then plugging an RJ-11 jack into the modem. When this wooden modem was built, that would have been illegal. Starting with the communications act of 1934, it was illegal to attach anything to the phone in your house. This changed in 1956 with Hush-A-Phone Corp v. United States, which ruled you could mechanically attach something to a phone's headset. (In Hush-A-Phone's case, it was a small box that fit over a candlestick phone to give you more privacy.)
The right to attach something to AT&T's equipment changed again in 1968 with Carterphone decision that allowed anyone to connect something electronically to AT&T's network. This opened the door for plugging an RJ-11 phone jack directly into your computer, but it wasn't until 1978 that the tariffs, specifications, and certifications were worked out. The acoustically coupled modem was the solution to sending data through the phone lines from 1956 until 1978. It was a hack of the legal system.
This leaves an ancient modem like the one sitting on my desk in an odd position in history. It was designed, marketed and sold before the Carterphone decision, and thus could not connect directly to AT&T's network. It was engineered before many of the integrated chips we take for granted were rendered in silicon. The first version of this modem was introduced only a year or so after the Bell 103 modem, the first commercially available modem, and is an excellent example of what can be done with thirteen or so transistors. It's time for the teardown, so let's dig in.