If you weigh yourself by standing on a bathroom scale, not liking the result, then balancing towards one corner to knock a few pounds off the dial, you are stuck in a previous century. Modern bathroom scales have not only moved from the mechanical to the electronic, they also gather body composition measurements and pack significant computing power.
Yet they're a piece of domestic electronics that sits in our bathroom and rarely comes under scrutiny. How do they work, and what do they contain? The team at November Five tore down a top-of-the-range Withings Body Cardio scale to find out.
After a struggle with double-sided sticky pads, the scale revealed its secrets: a simple yet accomplished device. There are four load cells and the electrodes for the body measurement, and the PCB. On the board is a 120 MHz ARM Cortex M4 microcontroller, a wireless chipset, battery management, and the analogue measurement chipset. This last is particularly interesting, a Texas Instruments AFE4300, a specialised analogue front-end for this application. It's a chip most of us will never use, but as always an obscure datasheet is worth a read.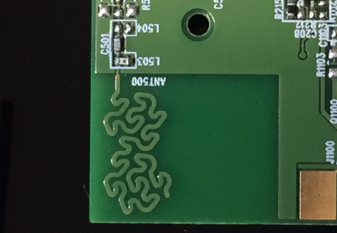 Finally, the wireless antenna is not the normal simple angular trace you'll be used to from the likes of ESP8266 boards, but an organic squiggle. It's a fractal antenna, presumably designed to present a carefully calculated bandwidth to the chipset. A nice touch, though one the consumer will never be aware of.
We've shown you quite a few bathroom scales over the years. There was this wisecracking Raspberry Pi scale, this scale reverse engineered to gather weight data, and this one laid bare for use as a controller.