If you sign up for a European hacker camp such as CCC Camp in Germany or SHA Camp in the Netherlands, you'll see among the items recommended to take with you, a DECT handset. DECT, or Digital Enhanced Cordless Telecommunications, refers to the set of standards that lie behind the digital cordless telephones that are ubiquitous across Europe and some countries elsewhere in the world. These standards cover more than just the simple two-way telephone calls through a base station that most Europeans use them for though, they define a fully functional multi-cell 3G phone and data networking system. This means that an event like SHA Camp can run its own digital phone network without having to implement cell towers.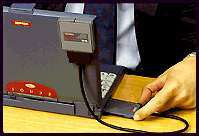 Reading the history of DECT, there is the interesting snippet that the first DECT product on the market in 1993 was not a telephone but a networking device, and incidentally the first wireless LAN product on the European market. Olivetti's Net3 provided 512kB/s wireless networking to a base station with Ethernet or Token Ring interfaces for connection to a LAN. In its original form it was an internal card for a desktop PC coupled to a bulky external box containing radio circuitry and antenna, but its later incarnations included a PCMCIA card with a much smaller antenna box. The half-megabit speed seems tiny by today's standards, but in the pre-multimedia world of 1993 would have been perfectly adequate for a Novell Netware fileserver and an HP Laserjet 4.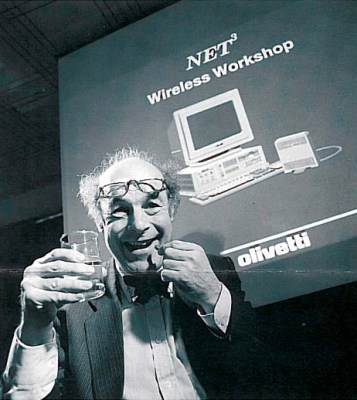 Mystery Technology
So DECT is an interesting technology that can do more than just a simple cordless phone, and its first product was unexpectedly somewhat groundbreaking. It then becomes even more interesting to find that Net3 has left very little evidence of itself to find that can be found on the Web, and learning more about it requires a little detective work.
The Wikipedia entry has the bare bones, but it speaks volumes about the obscure nature of the product that the encyclopedia's only picture of it is a tiny thumbnail-sized promotional image of the PCMCIA variant in a chunky mid-1990s laptop. A further search reveals a 1993 British Olivetti staff newsletter (PDF) carrying another promotional image of the desktop Net3 device featuring the then-well-known TV personality and academic [Heinz Wolff] demonstrating the technology bizarrely by swallowing a DECT medical instrumentation transponder wrapped in a condom. Some press releases remain in the fossilized remnants of the 1990s internet, and a Net3 design team member's LinkedIn page led us to the patent covering the system, but that's pretty much it. We can't even find a high enough resolution image of a Net3 card for our featured image slot.
Wireless Things Before Their Time
It's obvious that Net3 and DECT networking as a high-end wireless LAN before a need for wireless LANs existed never made it, but what is perhaps more interesting is that it seems to have left no legacy for other more mundane applications. We are in the midst of an explosion of hype around the Internet of Things and it seems new short-range wireless networking technologies appear almost daily, yet the world seems to have overlooked this robust, low power, and mature wireless network with its own dedicated frequency allocation that many of us already have in our homes. It seems particularly surprising that among the many DECT base stations on sale at your local consumer electronics store there are none with an Internet connection, and there is no market for IoT devices that use DECT as their backhaul.
In the open-source community there has been some work on DECT. The OsmocomDECT project for example provides a DECT software stack, and deDECTed.org states an aim to "better understand DECT and its security and to create an Open Source implementation of the DECT standard". But there seems to have been very little hardware work in our community on the standard, for example there are no DECT-specific projects on Hackaday.io.
Net3 then was a product before its time, a herald of what was to come, from that twilight period when the Web was definitely a thing but had yet to become the world's universal information repository. Public wireless networking was still several years in the future, so there was no imperative for road warriors to equip themselves with a Net3 card or for computer manufacturers — not even Olivetti themselves! — to incorporate the technology. It thus didn't take the world by storm, and unusually for such a ground-breaking computer product there remains little legacy for it beyond a rarely-used feature of the protocol Europeans use for their cordless phones.
Did you have a Net3 card? Do you still have one? Let us know in the comments.