We imagine you've heard this already, but waste plastic is a problem for the environment. We wrap nearly everything we buy, eat, or drink in plastic packaging, and yet very little of it ends up getting recycled. Worse, it doesn't take a huge industrial process to melt down a lot of this plastic and reuse it, you can do it at home if you were so inclined. So why aren't there more localized projects to turn all this plastic trash into usable items?
That the question that [Precious Plastic] asks, and by providing a centralized resource for individuals and communities looking to get into the plastic recycling game, they hope to put a dent in the worldwide plastic crisis. One of their latest projects is showing how plastic trash can be turned into functional iPhone cases with small-scale injection molding.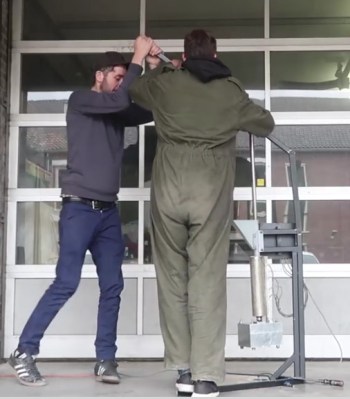 The video after the break goes into intricate detail about the process involved in creating the 3D CAD files necessary to make the injection molds. Even if you don't plan on recycling milk jugs at home, the information and tips covered in the video are extremely helpful if you've ever contemplated having something injection molded. The video even demonstrates a neat feature in SolidWorks that lets you simulate how molten plastic will move through your mold to help check for problem areas.
Once you've designed your mold on the computer, you need to turn it into a physical object. If you've got a CNC capable of milling aluminum then you're all set, but if not, you'll need to outsource it. [Precious Plastic] found somebody to mill the molds through 3DHubs, though they mention in the video that asking around at local machine shops isn't a bad idea either.
With the mold completed, all that's left is to bolt the two sides together and inject the liquid plastic. Here [Precious Plastic] shows off a rather interesting approach where they attach the mold to a contraption that allows them to inject plastic with human power. Probably not something you'd want to do if you're trying to make thousands of these cases, but it does show that you don't necessarily need a high tech production facility to make good-looking injection molded parts.
This project reminds us of the tiles made of HDPE plastic with nothing more exotic than what you'd find in the average kitchen. Projects like these really drive home the idea that with the right hardware individuals can turn trash into usable products.
[via 3DHubs]
Continue reading "Injection Molding IPhone Cases From Trash" →