I was in Pasadena CA for the Hackaday Superconference, and got to spend some quality time at the Supplyframe Design Lab. Resident Engineer Dan Hienzsch said I could have a few hours, and asked me what I wanted to make. The constraints were that it had to be small enough to fit into checked luggage, but had to be cool enough to warrant taking up Dan's time, with bonus points for me learning some new skills. I have a decent wood shop at home, and while my 3D printer farm isn't as pro as the Design Lab's, I know the ropes. This left one obvious choice: something Jolly Wrencher on the industrial Tormach three-axis CNC metal mill.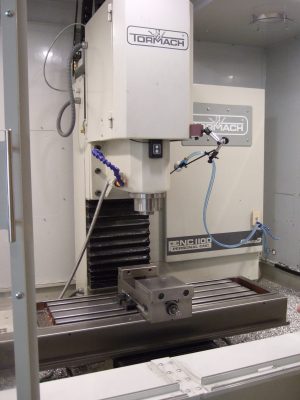 A CNC mill is an awesome tool, but it's not an omniscient metal-eating robot that you can just hand a design file to. If you thought that having a CNC mill would turn you into a no-experience-needed metal-cutting monster, you'd be sorely mistaken.
Of course the machine is able to cut arbitrary shapes with a precision that would be extremely demanding if done by hand, but the craft of the operator is no less a factor than with a manual mill in making sure that things don't go sideways. Dan's good judgment, experience, and input was needed every step of the way. Honestly, I was surprised by how similar the whole procedure was to manual milling. So if you want to know what it's like to sit on the shoulder of a serious CNC mill operator, read on!
Continue reading "CNC Milling Is More Manual Than You Think" →