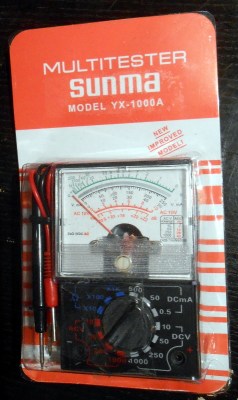 I have a fascination with the various online vendors of electronics and other manufactured goods from China. Here are listed the latest wonders from Shenzhen or wherever, which you can have for a surprisingly reasonable price, with the mild inconvenience of a three week wait for the postage.
A particular pastime of mine is to look for the bottom end of the market. Once I've picked up the items I came to order I'll trawl around with the search with low price first and see what can be had for a few dollars. Yes, I take a delight in finding absolute trash, because just sometimes that way you can find a diamond in the rough.
So when I was shopping for a multimeter recently I took a quick look to see what the cheapest model from that particular supplier was. For somewhere around £2.50 or just over $3, I could have a little pocket analogue multimeter, the kind of "My first multimeter" that one might have found in the 1980s. They weren't too bad, I thought, and ordered one for less than a pint of beer in a British pub.
Continue reading "The Worst Piece Of Test Equipment You've Got To Try Hacking" →