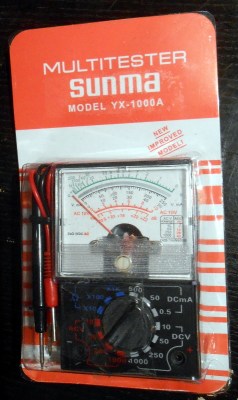 I have a fascination with the various online vendors of electronics and other manufactured goods from China. Here are listed the latest wonders from Shenzhen or wherever, which you can have for a surprisingly reasonable price, with the mild inconvenience of a three week wait for the postage.
A particular pastime of mine is to look for the bottom end of the market. Once I've picked up the items I came to order I'll trawl around with the search with low price first and see what can be had for a few dollars. Yes, I take a delight in finding absolute trash, because just sometimes that way you can find a diamond in the rough.
So when I was shopping for a multimeter recently I took a quick look to see what the cheapest model from that particular supplier was. For somewhere around £2.50 or just over $3, I could have a little pocket analogue multimeter, the kind of "My first multimeter" that one might have found in the 1980s. They weren't too bad, I thought, and ordered one for less than a pint of beer in a British pub.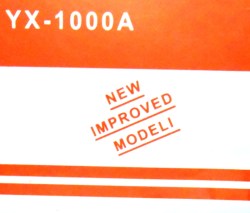 What arrived was promising enough, in a plastic blister pack, the Sunma YX1000A. The cardboard backing proudly proclaimed "New Improved Modeli", so I had evidently made a wise purchase. On the back it told me there was a multimeter, test leads, battery, and instruction leaflet, but what I unpacked was only the meter and rather lightweight leads. Still, who needs instructions for a multimeter, and I have plenty of AA cells. Unscrew the back of the case, complete with a chip of plastic missing from one of its corners, pop the battery in, and away we go. £2.50 for a multimeter, we're in for a treat!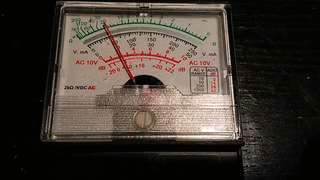 My first task was to hook it up to my trusty 723 power supply, and check that the meter works. Fantastic, the needle swings up to 7.5 volts. Then back to 3.5 volts. Then back to 7, and so on in a crazy oscillation. But it settled eventually on 4V, which was a good sign. Or, at least, it would have been a good sign, had I not been supplying it with 5V.
A quick check with my everyday Uni-T digital multimeter, itself hardly a thoroughbred, and yes, I was giving it 5 volts. Maybe there was a parallax error at work, was the reflection of the needle lined up with the mirrored stripe on the face of the meter? Looking closely, I couldn't see the reflection of the pointer, perhaps the front of the meter was steamed up. No, in fact the mirror wasn't really a mirror at all, just a stripe of silver paint to look like a mirror from a distance. This is quality workmanship here, let me tell you.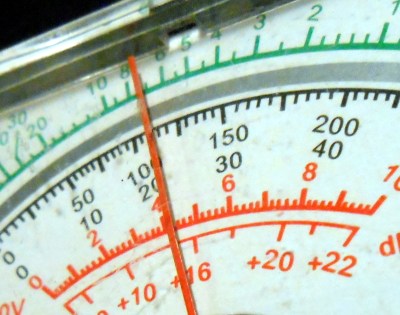 A quick check on the resistance ranges and the ammeter showed a consistent 20% low reading. No problem, users of a YX1000A will simply have to add 25% to any reading they get for the true value. And this gives an unexpected bonus, of a 25% increase in the meter's range. For free. What other piece of test equipment delivers such value?
Opening up the meter for a teardown, and I found a single printed circuit board, with as expected the selector switch formed by PCB pads. With the exception of a through-hole rectifier diode and trimmer used as the zero adjustment for the resistance ranges, all components were surface-mount. There was no plating on the pads, save for the HASL or similar PCB tinning. Those pocket meters back in the day would usually fail because of oxidation of these contacts, no doubt this one would eventually succumb to the same fate.
The Sunma YX100A then: A case with a chip in it, a wildly oscillating meter mechanism that evidently has no damping, a stripe of grey paint for a parallax mirror, and a consistent 20% low reading. Even with a slightly tongue in cheek review, it's fair to say that I have had better multimeters than the Sunma. In fact it's fair to say that every multimeter I have ever used has been better than the Sunma. It's possible that to make a multimeter worse than the Sunma would be extremely difficult, but they must have done it, because as they say, this is the "Improved Modeli". Just how bad was the previous unimproved model?
So, what have I proved here? £2.50/$3 does not get you a decent meter. No surprises there, but I bought it for a laugh so am not disappointed. In fact the review of an awful meter has been considerably more enjoyable than it would have been had it been a good one, such has been the catalogue of dire features to uncover. There are decent pocket analogue multimeters still being manufactured, but if you want one you should expect to pay what it is worth.
I look at this awful meter though and see an entertaining opportunity. Here is a case with an AA battery holder and a moving coil meter, for relative pennies. What can you do with a Sunma YX1000A to make it better? Would any of you like to drop one on your next Banggood order and have a go at hacking it? Perhaps you could fix it and make a good multimeter from it, or maybe you'll gut it and make something completely different. Put it on Hackaday.io and tell me about it, I'm sure we'd all love to see. I can't promise any prizes but I'll see what I can do to grant fame and fortune to your work.