Lithium rechargeable batteries have been heralded for their high-density energy storage, enabling all manner of technologies to come to fruition. From drones to practical electric cars to large-scale grid storage, the applications are endless.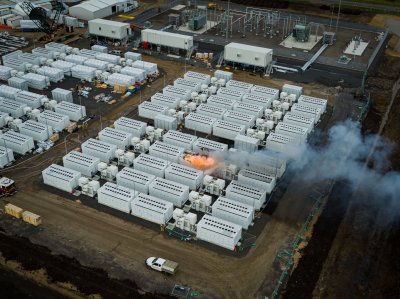 However, the lithium rechargeable battery has always had one major flaw–flammability. Pushed outside their operating range or otherwise tipped into thermal runaway, and they can burn ferociously as a result.
This came to pass in late July, at the Victorian Big Battery in Geelong, Australia, and it took significant effort to extinguish the blaze. Let's take a look at the project and see how this came to occur.
Grid-Scale Storage
The Victorian Big Battery is a grid storage project similar in construction to the Hornsdale Power Reserve in neighboring South Australia. However, where the Hornsdale facility fields 194 MWh of capacity and 150MW peak power delivery, the new project aims to go much further. The Victorian project aims to install 450 MWh of capacity and deliver a peak power output of 300 MW.
Continue reading "Tesla's Megapack Battery Burned For Days In Grid Storage Fire" →