Long ago, before smartphones were ubiquitous and children in restaurants were quieted with awful games on iPads, there was a beautiful moment. A moment in which the end user could purchase, at a bargain price, an x86 computer in a compact, portable shell. In 2007, the netbook was born, and took the world by storm – only to suddenly vanish a few years later. What exactly was it that made netbooks so great, and where did they go?
A Beautiful Combination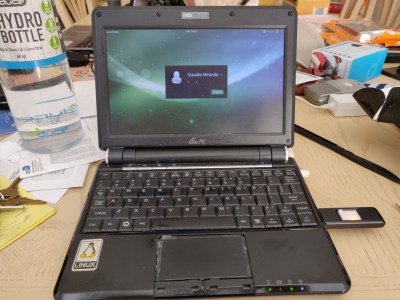 The first machine to kick off the craze was the Asus EEE PC 701, inspired by the One Laptop Per Child project. Packing a 700Mhz Celeron processor, a small 7″ LCD screen, and a 4 GB SSD, it was available with Linux or Windows XP installed from the factory. With this model, Asus seemed to find a market that Toshiba never quite hit with their Libretto machines a decade earlier. The advent of the wireless network and an ever-more exciting Internet suddenly made a tiny, toteable laptop attractive, whereas previously it would have just been a painful machine to do work on. The name "netbook" was no accident, highlighting the popular use case — a lightweight, portable machine that's perfect for web browsing and casual tasks.
But the netbook was more than the sum of its parts. Battery life was in excess of 3 hours, and the CPU was a full-fat x86 processor. This wasn't a machine that required users to run special cut-down software or compromise on usage. Anything you could run on an average, low-spec PC, you could run on this, too. USB and VGA out were available, along with WiFi, so presentations were easy and getting files on and off was a cinch. It bears remembering, too, that back in the Windows XP days, it was easy to share files across a network without clicking through 7 different permissions tabs and typing in your password 19 times.