Unless you've been living under a high voltage transformer, you've heard about the potential for Samsung's latest phone, the Note7, to turn into a little pocket grenade without warning. With over 2.5 million devices in existence, it's creating quite a headache for the company and its consumers.
They quickly tied the problem to faulty Li-ion batteries and started replacing them, while issuing a firmware update to stop charging at 60 percent capacity. But after 5 of the replacement phones caught fire, Samsung killed the Note7 completely. There is now a Total Recall on all Note7 phones and they are no longer for sale.  If you have one, you are to turn it off immediately. And don't even think about strapping it into a VR headset — Oculus no longer supports it. If needed, Samsung will even send you a fireproof box and safety gloves to return it.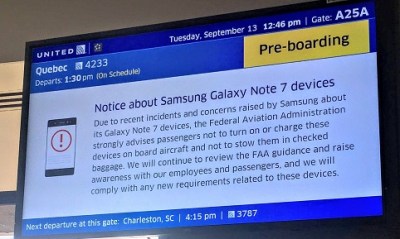 It should be noted that the problem only affects 0.01% of the phones out there, so they're not exactly going to set the world on fire. However, it has generated yet another discussion about the safety of Li-ion battery technology.
It was just a few months ago we all heard about those hoverboards that would catch fire. Those questionably-engineered (and poorly-named) toys used Li-ion batteries as well, and they were the source of the fire problem. In the wake of this you would think all companies manufacturing products with Li-ion batteries in them would be extra careful. And Samsung is no upstart in the electronics industry — this should be a solved problem for them.
Why has this happened? What is the deal with Li-ion batteries? Join me after the break to answer these questions.
Continue reading "Li-Ion Tech Staring Into The Abyss With Note 7 Failure" →