When you have access to your own CNC machine, you tend to make stuff first and ask questions later. That sounds like how [Rui Cabral] came up with a weather station stuffed into a miniature arcade game cabinet.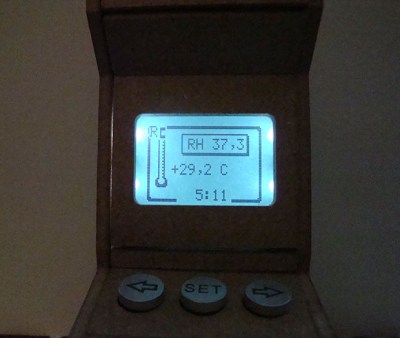 Standing only about 16 cm tall, the cabinet is quite detailed and resembles the familiar arcade form factor that has consumed countless quarters. It even appears to be made of particle board like the big boys. The screen cutout is filled by a 84×48 monochrome Nokia display, and the rest of the cabinet's interior is stuffed with a CNC-milled PCB, temperature and humidity sensors, an RTC, and a Bluetooth module for uploading data to a phone. [Rui] even manages to work in an homage to the grand-daddy of all arcade games with a Pong splash screen.
Another good-looking display for this project might have been this ePaper badge made into a weather station. And we've featured even tinier arcade cabinets too, though perhaps not as functional.
[Rui] takes us on a video tour of his build after the break.