While there's little in the way of hard rules dictating what constitutes a cyberdeck, one popular opinion is that it should be a piecemeal affair — a custom rig built up of whatever high-tech detritus the intrepid hacker can get their hands on, whether it be through trades or the time-honored tradition of dumpster diving. It should also be functional, and ideally, capable of some feats which would be difficult to accomplish with a garden variety laptop.
If you're looking for an example that embraces these concepts to the fullest, look no further than the Spacedeck built by [saveitforparts]. Combining a touch screen all-in-one computer pulled from a police cruiser in the early 2000s, an RTL-SDR, and the contents of several parts bins, the rig is designed to work in conjunction with his growing collection of motorized satellite dishes to sniff out signals from space.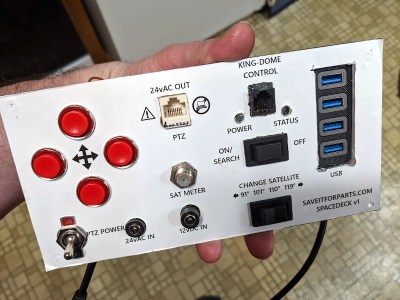 As you can see in the build video below, the design for this mobile satellite hacking station was originally very different, featuring considerably more modern hardware with all the buzzword interfaces and protocols you'd expect. But [saveitforparts] couldn't get all the parts talking satisfactorily, so he went in the closet and dug out one of the surplus police terminals he'd picked up a while back.
He didn't have the appropriate connector to power the machine up, but by cracking open the case and tracing out the wires, he figured out where he needed to inject the 12 V to get it spun up. From there he installed a new Mini PCI WiFi adapter, loaded up an era-appropriate build of Linux, and got the standard software-defined radio tools up and running.
What really sets this build apart are the two custom panels. The top one offers access to the various ports on the computer, as well as provides a sort of switchboard that connects the RTL-SDR to various onboard filters. The lower panel includes the hardware and controls necessary to aim different styles of motorized satellite dishes, as well as a USB hub and connector that leads into a commercial satellite meter tucked into the case.
At the end of the video [saveitforparts] demonstrates the various capabilities of the Spacedeck, such as the ability to pull in imagery from weather satellites. Considering the sort of satellite sniffing we've seen him pull off in the past, we have no doubt this machine is going to be listening in on some interesting transmissions before too long.
Continue reading "A Parts Bin Cyberdeck Built For Satellite Hacking" →