The Si47xx series of integrated circuits from Silicon Labs is a fascinating series of consumer broadcast radio products, chips that apply SDR technologies to deliver a range of functions that were once significantly more complex, with minimal external components and RF design trickery.  [Kodera2t] was attracted to one of them, the Si4720, which boasts the unusual function of containing both a receiver and a transmitter for the FM broadcast band and is aimed at mobile phones and similar devices that send audio to an FM car radio. The result is a PCB with a complete transceiver controlled by an ATmega328 and sporting an OLED display, and an interesting introduction to these devices.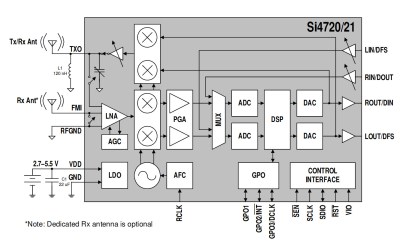 A look at the block diagram from the Si4720 reveals why it and its siblings are such intriguing devices. On-chip is an SDR complete in all respects including an antenna, which might set the radio enthusiasts among the Hackaday readership salivating were it not that the onboard DSP is not reprogrammable for any other purpose than the mode for which the chip is designed. The local oscillator also holds a disappointment, being limited only to the worldwide FM broadcast bands and not some of the more useful or interesting frequencies. There are however a host of other similar Silicon Labs receiver chips covering every conceivable broadcast band, so the experimenter at least has a good choice of receivers to work with.
If you need a small FM transmitter and have a cavalier attitude to spectral purity then it's easy enough to use a Raspberry Pi or just build an FM bug. But this project opens up another option and gives a chance to experiment with a fascinating chip.