I see the disturbing trend of moving away from keyboards as input devices — and I'm talking about a real, physical keyboard. This isn't a matter of one decision that kills the keyboard, but an aggregate that is slowly changing the landscape. If you blink, you'll miss it. We will not find ourselves in a world without keyboards, but in one where most of the available keyboards suck.
Rise of the Virtual Keyboard Generation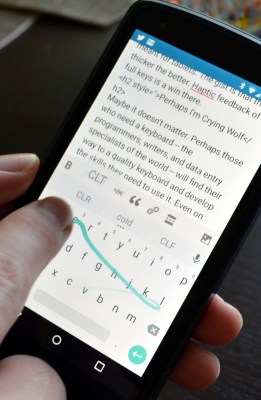 Tablets are great for screwing around, but when you want to get real work done in a reasonable amount of time, you grab a physical keyboard. In this scenario I don't see the problem being those in the workforce going away from keyboards; it's how the younger generations are learning to interact with technology that is troubling. The touchscreen is baby's first computer. Families gather and the kids are handed their parent's tablets while the grown-ups watch the game. More and more schools are outfitting classrooms with tablets, and for this I'm an advocate. Getting kids involved early in technology is imperative; knowledge evolves much more rapidly than printed textbooks. The tablet is a powerful tool in both of these areas. But most of the screen time kids get is with touchscreens and no physical keyboard.
How much time are K-12 kids spending in front of a physical keyboard? In the United States, if keyboard (typing) classes exist at all in a public school's curriculum they're usually only one-semester. Students who spend half of Elementary school using a tablet, and just one semester at a keyboard, are bound to prefer touchscreen-based entry over a physical keyboard.
Keyboard Erosion
We've already seen a strong push into touch-screens on laptops as the tablet market has grown. This is not necessarily a bad thing. Think of the computer mouse, it didn't replace the keyboard, but augmented it and now is seen as a tool that itself is a necessity.
Continue reading "Childhood Tech Exposure Is Slowly Killing The Keyboard" →