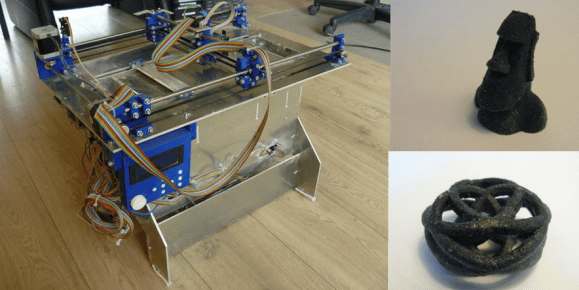 3D printers come in all shapes and sizes. Most widely known is the FDM (fused deposition modeling) style, which was the easiest to adapt to a consumer grade machine. We're still waiting for widespread availability of some of the more advanced 3D printing technologies — so you can guess how excited we were when [Yvo de Haas] dropped us a line on his open-source powder based 3D printer!
Powder based 3D printing is one of the most economic and easy to use technologies in the commercial industry because of one wonderful thing — no support material required! They work by laying down fine layers of powder which can then be bonded together either by laser sintering, or by using a binding agent applied by something similar to an inkjet head. Because of this, the surrounding powder acts as a support for any complex geometry you might need — you can quite literally print anything on this style of machine.
[Yvo] has just finished his own version of this style of 3D printer, called the Plan B. Mechanically similar to a regular 3D printer, his is capable of laying down fine powders, and then binding them together using a hacked HP inkjet cartridge. Check it out after the break.
And if you happen to have a laser cutter or engraver, you might be able to make your own SLS machine as well!