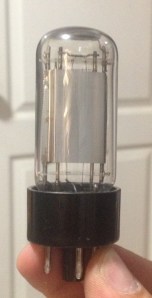 About a decade ago I started a strange little journey in my free time that cut a path across electronics manufacturing from over the last century. One morning I decided to find out how the little glowing glass bottles we sometimes call electron tubes worked. Not knowing any better I simply picked up an old copy of the Thomas Register. For those of you generally under 40 that was our version of Google, and resembled a set of 10 yellow pages.
I started calling companies listed under "Electron Tube Manufacturers" until I got a voice on the other end. Most of the numbers would ring to the familiar "this number is no longer in service" message, but in one lucky case I found I was talking to a Mrs. Roni Elsbury, nee Ulmer of M.U. Inc. Her company is one of the only remaining firms still engaged in the production of traditional style vacuum tubes in the U.S. Ever since then I have enjoyed occasional journeys down to her facility to assist her in maintenance of the equipment, work on tooling, and help to solve little engineering challenges that keep this very artisanal process alive. It did not take too many of these trips to realize that this could be distilled down to some very basic tools and processes that could be reproduced in your average garage and that positive, all be it rudimentary results could be had with information widely available on the Internet.
Easy enough to make in your garage
Here is a typical construction process I utilize in my garage. I would like to point out that these processes include glass, thin metal, mica, and sharp tools that all represent cut hazards. Additionally extreme temperature in the form of hand torches, and R.F. induction bombardment are utilized. With all industrial processes extreme care must be taken in any endeavor. I would also like to point out that no mercury or other harmful materials are used in any of these processes. The primary materials are Glass, Nickel, Mica sheet, and tungsten wire. I.P.A and acetone are used as cleaners and a very small amount of barium is used in the getter.
Nearly all connections within a tube are of a welded variety, and spot welding is the quickest and most economical. I simply modified a cheap store-bought spot welder to accept small diameter welding rods and used a 10 amp Variac to control weld temperature. I connected a spring loaded board to use as a make shift jaw closer pedal.
Above on the right is a typical weld. I use Nickel as it has favorable properties for both vacuum use, and tube electronic characteristics. It also is easy to weld and does not oxidize readily under welding conditions in air, as long as the weld time is kept to a minimum. Also shown here is an exothermic evaporable getter ring. This contains a barium/aluminum alloy that evaporates by applying an induced R.F. heating field and adsorbs gas after the tube has been sealed to maintain a reasonable vacuum level.
To the left is what is called a Cage, with one half of the anode not yet attached. The entire structure is composed of Nickel sheet, wire, and mesh. .015 Clear mica, sheared to shape by a standard office scissor shear is punched by means of an arbor press, a block of wood, and a small steel pin. The anode is a sheet of .010″ Nickel formed around a small block of wood. The grid is made of soft temper nickel mesh that has been formed around a block, and welded to two nickel rods for support. Traditionally Molybdenum or nickel plated steel would be used for grid wires, but both materials are hard to work with and weld without special tools. To the right is the completed assembly with the second half of the anode welded to complete the cage.
 Putting it all together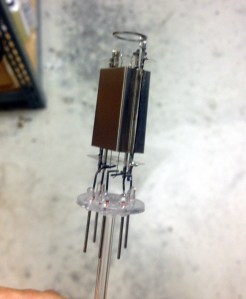 Here the Cage has been welded to what is called the Stem and this is turn is called a Mount. The stem is the portion that contains the hermetic glass to metal lead seals and the exhausting tubeulation for connecting the tube to the vacuum system. This particular tube uses a commercially available Stem. They can be made by hand, however is is very difficult to get good results that hold up to use. This is the most demanding and critical part in the tube and there are many electronics glass manufacturers in the U.S. who can provide these parts to drawing, and those who wish to hand craft their own would do well to watch the YouTube videos of Ron Soyland who covers the topic. The tungsten filament is also threaded through the cage and spot welded to the stem leads at this point. This tube uses .0085 diameter 1.5% thoriated tungsten.
Here the fit of the Mount to the glass bulb is checked. The mica spacers should come in contact with the glass bulb to minimize vibration in the cage. The next step is to trim the excess bulb material and seal the bulb and mount together. This is done by placing these parts in a specially made lathe with two headstocks that turn in unison. Many shops would have made their own machines as I have done myself. However, in this picture I am using a commercially available Lathe.
Avoiding breakage from thermal shock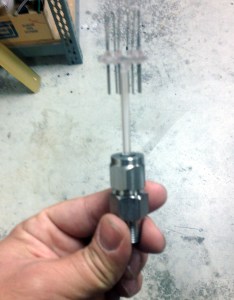 In large-scale production, carousel style sealing machines were typical. Generally you would anneal the tube after sealing. Sometimes you can flame anneal the glass without the use of an oven, but this is something that can only come with practice and experience. A better solution is to use borosilicate glasses. These types have greater resistance to thermal shock and are much easier to work with. Unfortunately they are far more expensive as they are typically reserved for extreme use. Large transmitting tubes and vapor style lights typically contain these sorts of glasses to handle extreme temperature variation and not damage the hermetic metal lead in seals.
Evacuation of the tube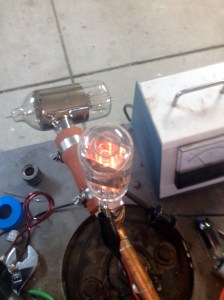 The tube is placed into the vacuum system. This image shows a typical compression port containing a compressible gland. A high vacuum pumping system contains a mechanical rotary vane pump backing either an oil vapor diffusion pump or a turbo molecular pump followed by a refrigerated trap, and then the manifold the tubes are connected to. This will also typically contain a Ionization gauge, pictured on the upper portion of the picture. The analog gauge indicates fore pressure on the diffusion pump. Typically diffusion pumps require a fore pressure of 100 Millitor or micron to begin pumping action. One micron equates to 1.32 X 10-6 atmospheres of pressure. The ultimate pressure of a well built single stage diffusion pump with no leaks and a refrigerated trap is well below 1 X 10-7 TORR.
In vacuum tube practice however this is difficult to reproduce and only attainable in very small batches with long bake out times and extreme care. In large volume production if the actual pressure in the tube at tip off (The melting of the exhaust tube and removal from the pump) occurs at a pressure in the 10-4 range it is considered a good vacuum. It is then the responsibility of the barium getter to attain the final operating vacuum level. Higher levels of vacuum require more pumps and better practices than can be covered here.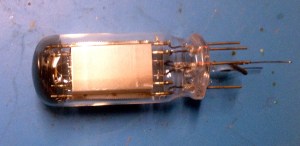 The skilled do it yourselfer need not fret. It is possible to have acceptable results for experimental tubes using only a dual stage mechanical rotary vane pump with a refrigerated trap. However, care must be taken that every attempt is made to outgas the tube with R.F. bombardment and baking out the tube in an oven placed over it while on the pump for about an hour at more than twice the expected operating temperature. Your final pressure at seal off should be kept to below 20 micron and a large volume of getter material should be used. Additionally the tube should be flooded with nitrogen or argon gas and heated prior to evacuation to reduce the average quantity of oxygen in the tube. Many of the very first amplifier tubes were of this type. The resultant tube will emit, but ionization current will occur as the anode voltage increases. Typically this sort of "Soft" tube has an upper voltage range of 60 to 90 volts. As soon as a vacuum system is on and the tube being pumped is known to be leak free, the filament is lighted and remains lighted through the remainder of the exhaust process. This keeps gas molecules liberated from other metal parts from condensing on the filament and adds additional heat to remove gas from other surfaces. Shown to the left of the tube is a coil for R.F. induction heating of the internal metal components of the tube while on the pump. This also serves as the heat source to flash the getter, producing the mirrored surface and maintain a proper vacuum pressure. Generally a receiving tube will operate in the 1X10-6 range after the getter has had a chance to sorption the remaining gas in a commercially produced tube.
Conclusion
You have to remember that in the early days of electronics many of these processes were developed by observation of empirical evidence. It was several years before a serious scientific study of thermionic emission was begun in earnest and many important discoveries in the production of these devices were made by individuals working with little more than basic tools. Some of these discoveries were made purely by accident. There is no particular reason one cannot simply pick up where the innovators of the teens and twenties left off before tubes became big business. Don't forget, Menlo Park was nothing more than a ramshackle building, and [de Forest] labored in a dark corner of Federal Telegraph when he developed the Triode. The particular type of tube I build is defiantly crude. Its max plate current is only a few milliamps, it's gassy, and its gain is pitiful, but it works. It's a reminder that at one time somebody tried something, they were not really sure how to do it and they had no solid plan of how, but they succeeded. They found a way forward and eventually crafted an entirely new area of science an industry. I think I will go play around in my garage a bit more now.
Resources
There are a few videos and websites on the net that show in excellent detail some of the finer points of tube production.
About Charles Alexanian
Charles is production manager at Alex-Tronix and also in charge of new product development, but he gets bored easily so he moonlights at M.U. Incorporated fixing vacuum pumps and tube test gear. He is also an on call technician for the most downloaded podcast on earth and several recording studios because he hates free time… I mean he really hates it. If he were to ever actually have any free time he would most certainly consume it in one of his many hobbies like: more electronics projects, prospecting, or HAM radio.