During World War I, the United States felt they were lagging behind Europe in terms of airplane technology. Not to be outdone, Congress created the National Advisory Committee for Aeronautics [NACA]. They needed to have some very large propellers built for wind tunnel testing. Well, they had no bids, so they set up shop and trained men to build the propellers themselves in a fantastic display of coordination and teamwork. This week's film is a silent journey into [NACA]'s all-human assembly line process for creating these propellers.
Each blade starts with edge-grained Sitka spruce boards that are carefully planed to some top-secret exact thickness. Several boards are glued together on their long edges and dried to about 7% moisture content in the span of five or so days. Once dry, the propeller contours are penciled on from a template and cut out with a band saw.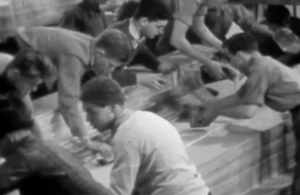 After about 35 of these laminations have been made, they are stacked and dry-fit against wax covered filler blocks. These blocks are necessary to maintain constant and even pressure throughout the giant press. Next, the laminations are stacked upside down near the press and marked for glue application. Here's where the process gets really intense: these men have just 15 minutes starting from the time the first bit of glue is applied to get all the laminations covered, stacked, and packed in with filler blocks.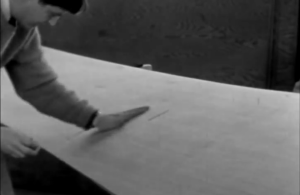 This spruce and glue Dagwood sandwich spends 24 hours under pressure. When the time is up, the filler boards are pried away from the propeller, and the excess glue is scraped away. Next, the corners are roughed off with a rotary sander.
To achieve the aerodynamic ideal, the prop is fitted with ribs every six inches or so down its length, and the thicknesses along it are checked to within 1/100th of an inch. A pair of men pass a saw along the edge of each rib to notch it just so, and then the excess wood is removed with pneumatic planes designed and developed by [NACA] to constantly blow shavings all over the place. Finally, the blade whisperer is called in to check the fairness and make nitpicky markings wherever the wood is high by a thousandth of a hair.
Now the blade is ready to join its brethren in the 10-ton hub. Once all the blades have been hoisted into place, the top surface is machined and the upper hub plate is fitted and bored out. After all of that work, the blades come right back out so that holes can be drilled through them to accommodate the steel sleeves and bars that hold it all together.
Part two:
Part three:
[Thank you to David for sending this in]
Retrotechtacular is a weekly column featuring hacks, technology, and kitsch from ages of yore. Help keep it fresh by sending in your ideas for future installments.