Welcome back to this week's installment of Scope Noob where I'm sharing my experiences learning to use my first oscilloscope. Last week I started out measuring mains frequency using an AC-AC wall wart adapter. Homework, for those following along, was to build a bridge rectifier and probe the signals from it. Let's take a look.
Bridge or Full-Wave Rectification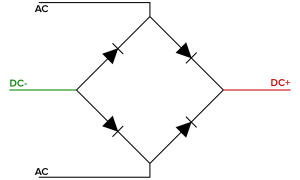 To the left is a schematic of a full-wave rectifier. Again, the important thing to note is that I'm using a 2-prong "wall wart" AC-AC adapter that converts the 120V line voltage down to 12V. Because of this I've used 1N4001 diodes to make the bridge rectifier.
Bridge rectifiers are also known as full-wave rectifiers because they take the alternating current and use both parts of the waveform to generate a direct current. A full explanation is not the purpose of this column so check out resources like this tutorial on the top (link dead, try Internet Archive) for the theory and math behind the concept.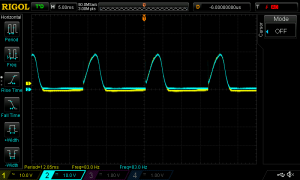 I made a video of these measurements which is embedded above. I started by again probing my incoming AC waveform to make sure that I had a known starting point. This time I used "AC" as the trigger source which is found by pressing the menu button on the trigger part of the scope. This uses the mains signal powering the scope to trigger the measurements which is quite handy for this particular exercise.
But when I went to probe the rectified waveform I was met with a surprise. My full-wave rectified signal was only showing up as half-wave rectified on the scope. The screenshot to the right shows an upward curve followed by a flat area where in there should have been continual arcs.
You Can't Probe Everything at Once
It only took me a few moments of head-scratching to figure this one out. With a reference-clip from both probes (channel 1 and 2) connected I'm actually shunting around one of the diodes, effectively turning the bridge back into a half-wave rectifier. That's because, as I talked about last week, the reference clips for all of the channels on the scope are connected to each other and to the ground pin on the scope's power cord.
Disconnecting channel one from the AC measurement resulted in the full-wave rectified signal I was anticipating. But here's a question I need help answering: Why is every-other waveform transition a bit mangled? I had expected a consistent waveform through every transition.
Smoothing and Regulating
To complete this set of tests I added an electrolytic capacitor to the DC connections to smooth the output. This cap is both under and over spec'd at the same time, being 3300uF but only 10V. It's a cap I pulled off of an old motherboard and was floating loose in the same container as some of my jumper wires.
The image above shows the regulated power rail on channel 1 (yellow) and the smoothed DC rail on channel 2 (blue). The 7805 is putting out 5.79V according to these measurements. When I was making the video I was puzzled because I thought the smoothed signal was a higher voltage than without the capacitor. Looking at the screenshots now I realize that isn't the case. I think this is an important lesson as well. Take screenshots as you're troubleshooting a circuit so that you can double-check the values you thought your remembered!
Homework
I've already done a bit of work on next week's column and I'm super excited to share all the things I've learned. Here's a little taste of the good stuff. I should be seeing just one sine wave on the scope but I'm getting two of them. I also delighted in finding a hiccup in the signal and using that to track down the cause in my code.
Give this a try yourself this week. I'm using Direct Digital Synthesis by driving an R/2R ladder using a microcontroller. I was inspired to take this on by [Bil Herd's] in-depth explanation of the topic. If you use a microcontroller as I have, I encourage you to split the eight digital outputs between two ports of the microcontroller and see what happens. I'll cover this and more next week!
I also need help with suggestions for future Scope Noob topics so let me know what you think I should try by leaving a comment below.