The Hackaday Prize was about to launch but the date wasn't public yet. I decided to do a pre-launch tour to visit a few places and to drop in on some of the Hackaday Prize Judges. It started in Chicagoland, looped through San Francisco for a hardware meetup and Hardware Con, then finished with visits to [Ben Krasnow's] workshop, [Elecia White's] studio, and the Evil Mad Scientist Laboratories.
The Prize is now running and it's time for you to enter. Look at some of the awesome hacking going on at the places I visited and then submit your own idea to get your entry started. Join me after the break for all the details of the adventure.
Chi-town
Catalyze Chicago is a co-working space that focuses on hardware entrepreneurs, so of course I had to go there. Pictured is a drum set on the ceiling (right) that you can play from your phone.
Next up, Pumping Station : One. Hackaday co-hosted a meetup with PS1 and it was super fun. We all showed off our projects and did some quick talks. There were so many people with projects to show off that we stayed there well into the night. [Drew Fustini] broke the ice with his project, a merge of accelerometer and MicroView. This was followed by a whole slew of projects, from Nixie tubes (YEAH!) to [Ryan Pierce] beer brewing with control box labels from Argonne National Laboratory.
Also seen at Pumping Station : One, [Jason Kridner] of BeagleBoard.org and a 3D printer called SeeMeCNC which runs Machinekit. A huge and powerful 3D printed robot arm was shown which is controlled by a Myo gesture control band and then a project and lightening talk that started with "I quit my day job to make sensors for my wife, a geothermal engineer". In the shot of the audience at Pumping Station, the man second from the right developed a bracelet that helps a woman with MS to use her phone. On the entertainment side of things, one interactive project I saw allowed the participants to access a local wireless network to play a fun game.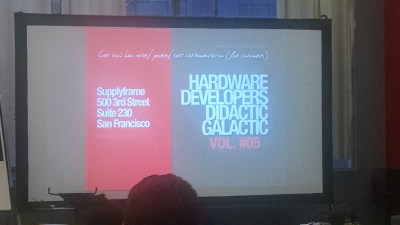 After Chicago, I headed for San Francisco, to get there just in time for the Hardware Developer's Didactic Galactic, a meetup that takes place in the [Supplyframe] office once a month. This HDDG had two speakers, [James Whong] from Mooshimeter -makers of the the 600V, 10A, 24-bit meter + BLE / App for remote metering applications and [Mark Garrison] from Saleae, who spoke about manufacturing challenges with their logic analyzer.
Just as an aside but in San Francisco, there is wireless charging in Starbucks. So while you may be a Starbucks hater, the wireless charging they offer (and $1.90 coffee refills) makes it a good place to rest.
I got to visit Othermill, the unbelievably well engineered PCB milling machine (bottom). Othermill is located in the Felix F. Schoenstein and Sons building (top). [Simone Davalos] gave us the tour.
I also visited MAKE offices and saw Keepon, the little robot meant to entertain autistic children (left) on someone's desk.
The next day was a PCB design workshop which went from 10am until 8pm, which made my head hurt (in a good way)!
HardwareCon3, a first year conference for Hardware based startups was in San Leandro, CA. It was held in a net-zero energy building which made for plenty of interesting decor. The conference itself was informative and entertaining both. Recommend!
I found a useful breakout shield for the Arduino Mega! Thanks [Ace Shelander] for the tester.
Hackaday Prize Judge Visits
The trip ended with a 2015 Hackaday Prize judge tour. First up: [Ben Krasnow]. After checking out the Delorian (seriously we looked inside and at the motor), we used his oscilloscope to look at hex data decoded from I2C lines. Other highlights and eye candy were a giant milling machine and…oh snap, caps.
Next judge that I visited was [Elecia White]. I got to see the famed Maxwell from her tutorial on Sparkfun. Besides writing embedded software and designing electronics, [Elecia] has a podcast called Embedded with [Chris White] and we recorded a Hackaday Prize teaser.
The last two Hackaday Prize Judges I visited were [Lenore Edman] and [Windell Oskay] , who co-own Evil Mad Scientist Laboratories in Sunnyvale, CA. There is the 555 timer footstool and some beautiful designs made with their Egg-bot, a CNC egg decorator.
A pizza party in Sunnyvale was the final end to the trip. [Kenneth Finnegan] showed us a small $50 radio and the conversation turned to communications in certain desert areas.
It was a hectic but fun week. Meeting so many of you and seeing so many very excellent projects in every place I went was inspiring. Let us know at prize@hackaday.com if you would like to co-host an event with us at your Hackerspace, restaurant, office, or launchpad.
---