On Saturday the Hackaday community turned out in force to try something new. The first Hackaday Unconference was held in three places at the same time, and I was in Chicago and was amazed at the turnout and variety of presentations. The image above sums up the concept quite well, everyone shows up ready to give an eight minute talk, but as a whole, no one knows what to expect. Well, we should have known to expect awesome and that's what we got.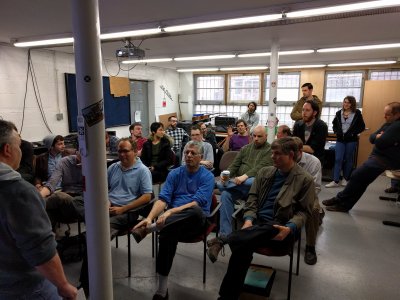 As usual, people are excellent… to one another and in adapting to the fluid nature of the day. Pumping Station: One, a renowned Hackerspace in the Avondale neighborhood near downtown Chicago, opened their doors for us. Not knowing how many people to expect we set up two presentation rooms with a third on deck just in case it was needed.
We just barely squeezed everyone in one room for the first track but ended up splitting into two for part of the day. Here you can see that second room filling up. Even so we still had a handful of presentations that didn't get a chance to shine — we simply must do this again so they can have the chance and because I had such a great time!
Continue reading "The Think Tank At The Chicago Unconference" →