Canada! Just in time for Spring to hit. I went to Toronto to speak at FITC, an arts and technology conference, co-host a Hackaday meetup with HackLab TO, visit the DigiPlaySpace at TIFF, and to check out Globacore's new digs.
FITC is a conference which celebrates the creativity in technology. Pictured above is Diorama Rama designed by [Christopher Lewis] and [Creative Technologists of Toronto] and built over 4 days by participants at FITC. The buildings are laser cut paper, and participants create a simple circuit using an ATtiny. A message is coded into the chip in ASCII and the buildings blink an individual message back in Morse code, each building blinking a different message. It's pretty interesting to use a Morse –> ASCII phone app (Morse Tools) to read the messages.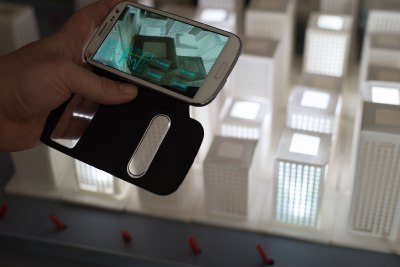 Hackaday Prize judge [Micah Elizabeth Scott] gave a talk about her work. [Jessica Rosenkrantz] of Nervous System spoke about her company's process when designing mathematically based objects. She spoke about her 3D printed dress pictured below and how it was made. Amazing! I also got to show off my newly minted Breathe project at FITC.
After FITC ended, HackLab co-hosted a meetup with us. A team from HackLab was a 2014 Hackaday Prize Semifinalist and won $1000 in components with their Retro Populator, a Pick and Place machine retrofit onto a 3D printer. We had beer as well as almond-cream flavored non-alcoholic drinks from the Luma Droid, a drink mixing robot. HackLab is a good-sized hackerspace, with a huge room for a meetup, a full kitchen and vegan dinner served frequently, plus a shop tools room all by itself.
Among the lightning talks, [Pearl Chen] brought her Intel Edison-powered alarm clock that has but one function — to tell her when she is running late. [Johannes van der Horst] brought a USB current monitor that had many of us fascinated for about an hour at the end of the evening, plugging in a phone or a battery just to see the numbers climb. [Eric Boyd] talked about the DIY Bio projects that are going on at HackLab. They are testing meat using PCR to see if it is indeed, beef. Ew.
[Andrew Kilpatrick] of Kilpatrick Audio showed us an older version of his synthesizer before showing us his newest revision, Phenol, which looks pretty slick.
[Hugh Elliot] spoke about a light-photography project. [Leif Bloomquist] spoke about a gaming glove project that Hackaday had previously covered. Leif had a Commodore 64 with him and all the games on it fit into 1 GB! [Nadine Lessio] discussed how many programs claim that you can become an expert in a few hours, but in fact, things are not easy. [Jay Vaidya] showed us an IFTTT hack which controls heaters and AC. [Andy Forest] showed us an impressive interactive model of Ontario's power system that kids at Steam Labs created.
That was a super fun meetup! Thanks HackLab for hosting. We've got a bunch of upcoming meetups and larger events in LA, NYC, Bangalore, San Francisco and Shenzhen. Check our events page for what, where, and when, We'd love to see you.
I stopped by TIFF's Bell Lightbox to see the DigiPlaySpace exhibit. [Micah Scott] did a collaboration with Ryerson University's RTA School of Media which welcomes you as you walk in. Note: all photos are lifted directly from TIFF.net's website.
My final stop on this tour was to visit Globacore's new offices. We spent a day or so hacking on a VR controller for their newest game called Power Cube. Power Cube is an Oculus Rift experience with a custom game controller holding an accelerometer, a gyroscope and magnetometer that links into the game directly.
See ya Toronto, I can't wait to come back!