The folks over at Lunchbox Electronics are working on a very cool prototype: embedding LEDs inside standard 1×1 Lego bricks. Being a prototype, they needed a cheap way to produce Lego bricks stuffed with electronics. It turns out a normal 3D printer has okay-enough resolution, but how to put the electronics in the bricks? Gcode wizardry, of course.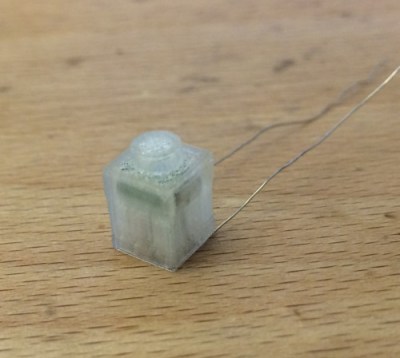 The electronics being stuffed into the bricks isn't much – just a small PCB with an LED. It does, however, need to get inside the brick. This requires stopping the 3D printer at the right layer, moving the print head out of the way, inserting the PCB, and moving the head back to where it stopped.
Gcode to the rescue. By inserting a few lines into the Gcode of the print, the print can be paused, the print head raised and returned, and the print continued.
If you want to check out what these light up Lego look like, There's a Kickstarter happening now. It's exactly what the 80s space sets needed, only thirty years late.