Horse racing has been around since the time of the ancient Greeks. Often called the sport of kings, it was an early platform for making friendly wagers. Over time, private bets among friends gave way to bookmaking, and the odds of winning skewed in favor of a new concept called the "house".
During the late 1860s, an entrepreneur in Paris named Joseph Oller invented a new form of betting he called pari-mutuel. In this method, bettors wager among themselves instead of against the house. Bets are pooled together and the winnings divided among the bettors. Pari-mutuel betting creates more organic odds than ones given by a profit-driven bookmaker.
Oller's method caught on quite well. It brought fairness and transparency to betting, which made it even more attractive. It takes a lot of quick calculations to show real-time bet totals and changing odds, and human adding machines presented a bottleneck. In the early 1900s, a man named George Julius would change pari-mutuel technology forever by making an automatic vote-counting machine in his garage.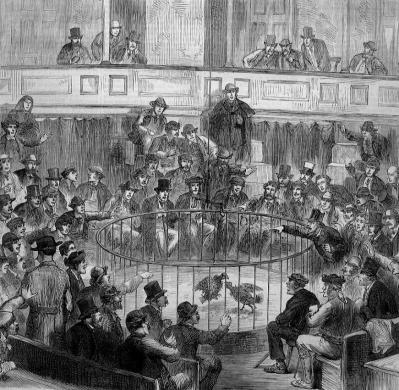 Gambler vs. Gambler
Horse racing was an extremely popular source of entertainment in nineteenth century Europe, due in part to the economic upswing of the Industrial Revolution. Racing's popularity was boosted further by pari-mutuel betting. Joseph Oller came up with the method in Spain while watching arguments break out over cock fighting bets. He created the pari-mutuel system to benefit the learned bettor. Essentially, he sought to cut out the bookmaker and his ability to fix the odds. Instead of each gambler betting against the house, Oller's method pits gambler against gambler. The odds of winning are in flux until the betting period ends.
In the pari-mutuel betting system, all the bets for a given horse are pooled together. After the winner is determined, a commission percentage is taken from the grand total of all bets placed. This goes to whoever owns the means to run the betting.  The remaining amount is divided by the total amount wagered on the winner, giving x profit per dollar wagered. If this works out to say, $10 per $1 wager, then the odds of winning were 10-1. The various systems used to tally the bets came to be called totalisators.
Totali-what?
In essence, a totalisator or tote board is made up of a number of counters that are used to display running totals. The term quickly became synonymous with pari-mutuel betting. Tote boards are largely associated with sports betting, but they are also used to keep track of and display pledge amounts during telethons.
In early pari-mutuel history, bet tallies at the racetrack were kept manually on chalkboards. As pari-mutuel betting increased in popularity, the totalisator concept was adapted to keep up with real-time demand. A number of different small machines were built to do the counting and brought to the track as a betting alternative. Some tote board owners went out and met the crowds in wagons.
Bettors placed more trust in the machines than they did the guys with chalkboards, but their confidence was a bit misplaced. The machines were ultimately operated by humans, some of whom were not above entering phony bets. Even so, horse racing continued to grow in popularity. Several tote boards sitting side by side were necessary to keep up with the demand. At larger racetracks, the small and portable tote boards began to move into dedicated buildings so they could handle more bets.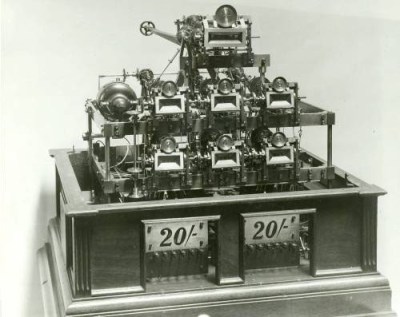 Electing a Winner
George Julius was a lifelong engineer. He took an early interest in mechanical operations, particularly those of clockwork. Julius was born in England, but moved to Australia and later, New Zealand as his father was promoted within the Anglican Church. Julius studied mechanical engineering and worked in both railway and timber engineering in Australia.
In his spare time, Julius built a machine to automatically count election votes. He presented it to both the Western and the Federal Australian governments, but neither one accepted his design. A friend took Julius to a nearby racetrack to show him another possibility for his machine. Because of his religious upbringing, he had never been exposed to horse racing or gambling. Julius was intrigued by the logistical problems inherent in pari-mutuel betting, and sought to create a device that could handle all the parallel arithmetic. He spent the next four years building a small automatic totalisator out of his garage.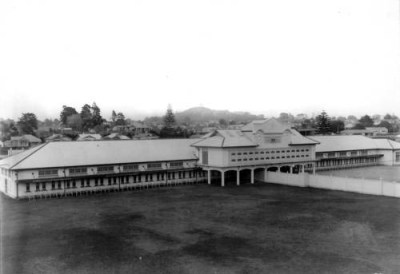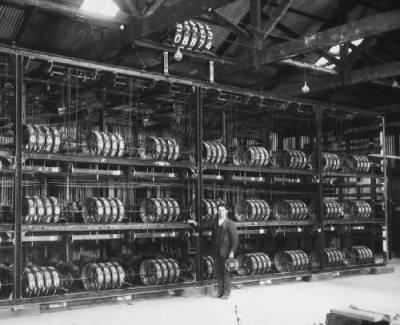 Multi-Story Computing
Julius' first commercial automatic tote was installed in 1913 at Ellerslie racetrack in Auckland, New Zealand. The machine was so large that it required its own multi-story building called a tote house. The Ellerslie machine could perform simultaneous bet summation for up to thirty horses. It displayed in real time the approximate odds for each horse to win, the total running amount wagered on each horse, and a grand total of wagers made in the event. The first floor of the tote house had thirty ticketing windows where bets were placed. The rest of the building was devoted to totalisator machinery. The tallied bets and approximate odds were displayed in the second floor windows of the tote house. These numerical displays were actually a part of the machine—huge, readable numbers on counter wheels.
This first automatic totalisator was completely mechanical and operated similarly to clockwork. Power came from large iron weights attached to bicycle chains draped over drive sprockets. The Ellerslie machine was only used for five years before it was replaced by an electromechanical tote. This marked the beginning of Auckland Totalisators Limited (ATL), which went on to dominate the international market for the next 50 years.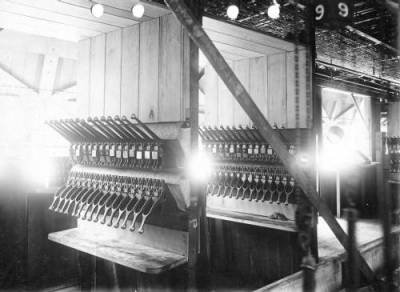 The betting process begins when a ticketing agent pulls a lever corresponding to the horse chosen by the bettor. This lever tugs at one of the 900 steel wires running overhead—one wire per horse, per ticket window at thirty apiece. You can just make them out in the upper right corner of this picture. Bets were taken in the smallest monetary units, and each pull of the lever incremented the bet.
In order to convert the parallel input from all the ticket windows to serial tallies for each horse, Julius invented a mechanism he called a shaft adder. The totalisator at Ellerslie racetrack had one of these mechanical differential adders for each horse. A shaft adder consisted of several sets of epicyclic gears situated along a common shaft. An escapement wheel attached to each gear set prevents it from rotating freely. The shaft adders are summed together to form the running grand total, which is displayed at the top of the tote board. A separate mechanism gave approximate odds using the horse's current bet total, the current grand total, and some trigonometry.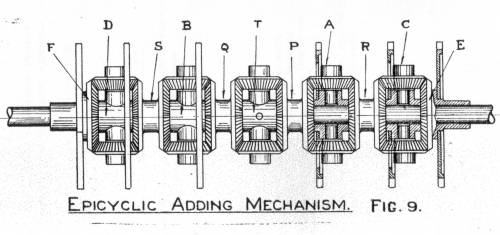 Tote boards quickly became electromechanical. Instead of large weights, the counters were driven by motors. Multiplexed rotary switches allowed the ticketing machines to share an escapement wheel on the shaft adder.
ATL installed totalisators all over the world, completely dominating the market until digital computers made them obsolete. Tote boards were among the first real-time multi-user systems, and helped pave the way for parallel processing.
Main image credit: Brian Conlon