We are all used to turning on the faucet and having clean, drinkable water on demand. But think about what happens afterwards in your home: that water is used to wash dishes or water lawns and many other uses that render it undrinkable. What stops this nasty water from flowing back into your pipes and out of your kitchen faucet? A backflow preventer. This simple, but vital, part of your plumbing turns your water pipes into one-way systems that give out clean, drinkable water. This isn't just about making your water taste nice: backflow preventers protect your water supply from things like brain-eating amoeba and E Coli that could kill.
The problem is water pressure. Your water flows out of your tap because it is delivered under pressure: the pipes in your home contain water at a pressure of around 50 pounds per square inch (psi). That pressure comes from the higher pressure (often about 200psi) in the water supply system. But if this pressure in the supply system drops because of something like a water main break, this situation can be reversed: the water main will be at a lower pressure, which could suck water back up from your pipes into the water supply line. The same situation applies if you have a garden sprinkler system: if a broken or leaky pipe somewhere in your house reduces the pressure, that system could end up sucking up the filthy water that is sitting in and on your lawn. In the video below, you can see how this happens: the back pressure in the pipes sucks the water back into the pipes.
A backflow preventer stops this happening. Like a diode in an electric circuit, it only allows the water to pass one way, from the water system into your home, or from your home water pipes into the system that waters your lawn. If the normal pressure between the two is reversed, the flow of water is blocked so the foul water can't get back into your pipes.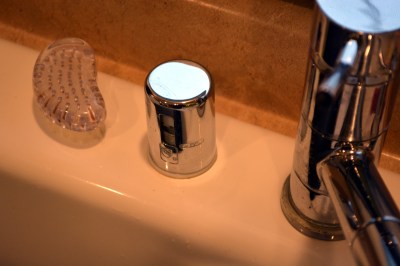 In the USA, a backflow preventer is a legal requirement for any commercial water system where potable (drinkable) and non-potable water system meet. In practical terms, this means that anywhere that water comes in contact with something unfit to drink, there has to be a way to stop that water flowing back. Plumbers call these points cross connections, and there are a lot of federal and state regulations that govern where they should (and should not) be installed. In your home, one important location where a backflow preventer is installed is the connection to a sprinkler system. But there is another backflow prevention device that people are much more familiar with while not actually knowing its purpose.
If you have a dishwasher you also have a backflow preventer in the form of an air gap which is shown in the image above. This is a passive device, it allows the waste water to pass from the dishwasher to the drain pipes under the sink. Water never comes out of this small fixture (unless it is installed wrong… you'll see questions about this on plumbing forums quite often). It simply introduces a path for air to enter that drain line. Worst case scenario: the sewer backs up and fills the sink, a water main break introduces negative pressure outside the house, and the dishwasher fill valve is open. Without an air gap this situation would siphon sewage into the water supply. The simple air gap is above the rim of the sink, ensuring that air will be sucked into the water supply, preventing contamination of the system. Of course there is another air-gap on your sink, the faucet itself must be above the rim of the sink to prevent backflow.
Our modern lives are surrounded by these engineering breakthroughs that are simple, yet make a huge difference in protecting our infrastructure. Do you have a favorite ubiquitous engineering principle? We'd love to hear about it below. We're always looking for suggestions for upcoming articles.