There have been a few reports of power over WiFi (PoWiFi) on the intertubes lately. If this is a real thing it's definitely going to blow all of the IoT fanboys skirts up (sorry to the rest of you *buzzword* fanboys, the IoT kids flash-mobbed the scene and they mean business).
All of the recent information we found points to an article by [Popular Science] titled "Best of What's New 2015". The brief write up includes a short summary lacking technical info, and fair play to [PopSci] as it's a "Best Of" list for which they hadn't advertised as an in-depth investigation.
However, we tend to live by the "If you're gonna get wet, you might as well swim." mentality, so we decided to get a little more information on the subject. After a bit of digging around we came across the actual article on [Cornell University]'s e-print archive where you can download the PDF that was published.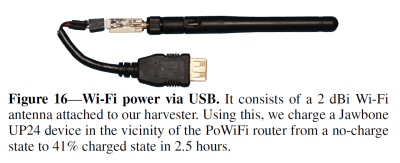 The paper goes into detailed explanation of the power harvesting theory including a schematic of the receiving end hardware. They had to create a constant transmission for the harvester to get over its minimum required voltage of operation. This was done with one of the wireless router's unused channels to fill the voids of packet-less silence between normal WiFi communication.
As you can imagine PoWiFi is currently limited to powering/charging very low power devices that are used intermittently. The research team was able to charge a Jawbone headset at a rate of 2.3mA for 2.5 hours which resulted in the battery going from 0-41%. The punchline here is the distance, the device being charged was only 5-7cm from the PoWiFi router which is getting close to inductive charging range. The researchers stated in the paper that they were looking into integrating the harvesting circuitry and antenna into the headset while working towards a larger charging distance.
At the time of writing this article it seems that PoWiFi is best suited for devices such as: low powered sensors and motion activated cameras that have increased energy storage capacity, which the team mentioned as one of the continued research possibilities.
We've covered numerous wireless power projects before, some legit and some we still get a kick out of. Where do you think this one falls on that spectrum? Let us know in the comments below.
Thanks to [ScottVR] for the tip.