What's it like to build a run of 100 prototypes in your basement? Get a first-hand account as [Zach Fredin] discusses his development and production of NeuroBytes. The system is a set of electronic models that represent neurons. Connecting them together into different networks helps to teach about how the human nervous system works. It's a wonderful concept, and was recognized as a finalist for Best Product in the 2015 Hackaday Prize. More recently, [Zach] tells us it has been granted Recommended Status for a Phase I SBIR National Science Foundation grant. Looks like [Zach's] new job is all NeuroBytes and is well funded. Congratulations!
Check out [Zach Fredin's] talk from the 2015 Hackaday SuperConference, then join us after the break to dig further into the details of the project.
If we gave out awards for longest SuperCon talk title, [Zach Fredin]  would win: "You can take your hardware idea through pilot-scale production with minimal prior experience and not very much money, so you should do it NOW!"
That's quite a mouthful, but then [Zach] has quite a lot to talk about. [Zach] learned to solder at 6 years old with the help of Heathkit videos. By 9th grade, he had discovered his parent's driveway was in fact conductive when put up against a neon sign transformer. College found [Zach] falling out of the electronics hobby, as materials science caught his eye. Now, a decade later he's back into it in a big way with NeuroBytes.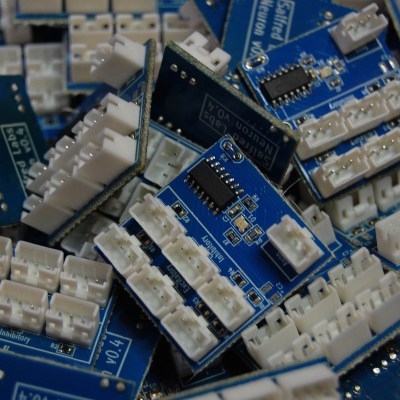 [Zach's] talk is all about how he ramped NeuroBytes from a breadboard project into pilot production. Zach is defining pilot as around 100 devices, so less than a shipping container, but more than 3 or 4. To do this, [Zach] leveraged tools that are available to every developer. He points out that EDA software like KiCad has made a big impact. Boards are also not as expensive as they used to be. Services like OSH Park and DirtyPCBs get us low-cost boards relatively quickly.
At this point, some hackers would take the route of going to an assembly house. Zach decided to build his pilot run in his basement. NeuroBytes has a relatively small number of parts, so it wouldn't take too long to assemble each board. Applying solder paste was a bit of a chore. [Zach] quickly learned to always spring for a stencil. Soldering the surface mount parts was made much easier with the help of a toaster oven reflow setup. You can find plenty of projects to convert your own oven over on Hackaday.io.
The result of [Zach's] experiment into pilot production was a wild success. He manged to build all 100 boards at a cost of just $4.79 each. This volume of boards was plenty to share with his collaborators. [Zach] had enough left that he was able to bring a bunch of NeuroBytes to San Diego Makerfaire with no worries about kids breaking the units. When you only have one or two copies of your project, they're more valuable than gold. If you have 100, it's much easier to hand them off to kids for stress testing.
We want to thank [Zach] for his talk, and for sticking around to hack out a NeuroByte enabled badge in our badge hacking competition.