Anyone who has ever been stuck in gridlock has probably daydreamed about pushing a button on the dashboard that turns their car into a plane. Imagine how much more relaxing a weekend getaway would be if you could take to the open sky instead hitting the congested highway. For as long as there have been aircraft and automobiles, man has tried to combine the two. The proper term for this marriage is 'roadable aircraft', and a successful one requires attention to the aerodynamics of flight as well as the rigors of motoring.
One promising attempt at a roadable aircraft came from Henry Smolinski, an aeronautical engineer in Van Nuys, California. He along with his friend Harold Blake started a company in 1971 called Advanced Vehicle Engineers (AVE) to produce the AVE Mizar. This flying car combined the lightweight Ford Pinto with the wings and partial fuselage of a Cessna Skymaster.
Ideas Take Flight
The first roadable aircraft patent in the United States was granted in 1918 to Felix Longobardi. His flying car featured retractable wings and even had propellers for use on water. But like a lot of roadable aircraft designs, it never left the drawing board, much less got off the ground. A few of the Mizar's predecessors were built and found moderate success.
One of these was Robert E. Fulton's Airphibian, which he unveiled in the late 1940s and featured a quick-release fuselage and wing combination with retractable support struts. Fulton made several prototypes and took one of them on a 100,000 mile tour of the United States. A later Airphibian model became the first roadable aircraft to be certified by the Civil Aeronautics Administration.
Easy conversion between aircraft and automobile was also an important design consideration for Smolinski and Blake's AVE Mizar; the Pinto could be backed up to the Skymaster air frame and linked with self-aligning connections in a matter of minutes. The Pinto had a greatly modified cockpit in order to handle all the instrumentation needed for driving and flying. Rudder pedals stowed compactly under the dash, and the steering wheel was easily changed into a yoke.
The Mizar used both the Pinto's engine and a Lycoming aircraft engine to take off, which shortened the takeoff distance required. Once airborne, the Pinto's engine was turned off. With a 12,000 ft. flight ceiling and 1,000-mile cruise range at speeds averaging 150 mph/241 kph, the Mizar looked good on paper.
See Your Ford Dealer for Details
In 1973, things were going well for Smolinski and AVE. They began FAA certification flights mid-year and partnered with California powerhouse automobile dealer Galpin Ford for national distribution. That name may ring a bell—their custom arm called Galpin Auto Sports is the garage used on Pimp My Ride. Galpin Ford has a long history with custom and oddball vehicles. They popularized the sunroof, pioneered the 1970s conversion van, and kicked off the 4×4 craze with their "Galpinized" vehicles.
Galpin Ford had a Mizar prototype on display and even made a promotional video for it, which we've embedded below. A Mizar was slated to appear as the getaway vehicle for villain Francisco Scaramanga's in the 1974 James Bond film The Man with the Golden Gun.
After a test flight in late August 1973, pilot Charles Janisse reported that the right wing's strut attachment disconnected, leaving the wing unsupported and the flying car incapable of turning without serious issues. Smolinski and Blake fixed the strut and took it out again a couple of weeks later. The support failed again when Smolinski tried to make a turn. The right wing crumpled and the Mizar crashed, killing both of its inventors.
Driving the Future of Roadable Aircraft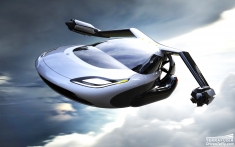 To this day, attempts at designing a balanced roadable aircraft continue. A company called Terrafugia started by several MIT grads is working on two different models. The Transition resembles Fulton's Airphibian as far as the automobile styling goes, but the wings fold up rather than detaching. Terrafugia's other model, the TF-X, looks like a Fifth Element car with propellers. The TF-X is more of a forward-looking vehicle that's designed for vertical take-off and landing. Here's to the future.