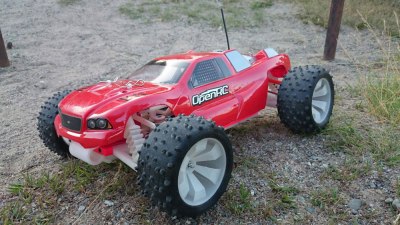 [Daniel Norée] started the OpenR/C project back in 2012 when he bought a Thing-O-Matic. In search of a project to test out his new printer, he set his sights on a remote controlled car, which as he put it,"… seemed like the perfect candidate, as it presents a lot of challenges with somewhat intricate moving parts along with the need for a certain level of precision and durability."
After releasing his second design, the OpenR/C Truggy, he realized a community was forming around this idea, and needed a place to communicate. So, he created a Google+ group. Today, the Truggy has been downloaded over 100,000 times and the Google group has over 5,000 members. It's a very active community of RC and 3d printing enthusiasts who are testing the limits of what a 3d printer can do.

The latest design to come out of the OpenR/C project is the Formula 1 car. It's really fun to browse through the Google Group and see all the upgrades people are coming up with. For example, [Thomas Palm] figured out a way to trick the slicer into printing little nubs on the outside of low profile tires for the F1 car. Want to drive your F1 Car in the snow, there are tires for that.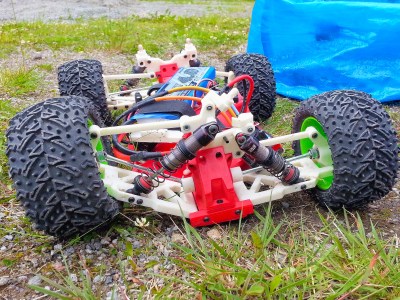 For me the coolest part of the open RC project is the amount of testing going into materials and printing techniques. An RC car is light, super fast, and gets absolutely hammered by its environment. Since 3D printing lowers the cost of destructive testing so much, people are trying out and optimizing new designs and materials quickly.
If you're willing to dig, the OpenR/C group has more tips on printing for strength, printing nylon, and printing flexible filaments than any other single resource on the internet right now. These guys are relentless.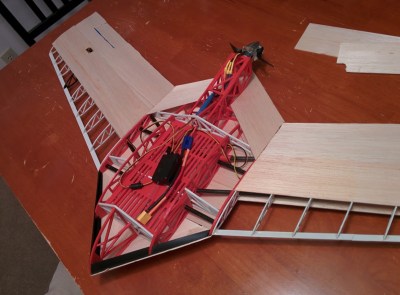 The project isn't relegated to the road. People are trying out new flying designs all the time, like this quadcopter project.
Fixed-wing flight builds are also popular. There's Open Swift, a 3d printable RC airplane designed by [CircuitGrove] that was sponsored by PrintrBot. And since printers are larger now there's one group posting their progress on an airplane where the entire wing is printed in one piece.
This goes well beyond the group. People are showing off their custom bodies built on the OpenR/C frame in all kinds of places. Just searching for OpenR/C on Thingiverse results in thousands of improvements, upgrades, and remixes; like this OpenR/C tricycle. I'd like to see a boat and a hovercraft developed by the community next.
Build with the Experience of Others
If you're looking to build one of these, the community is extremely helpful. There are full, updated BOMs, print settings, and material recommendations. There are even tips for getting specific brands of printers to work.
For the future it looks like the OpenR/C group will continue to see growth. The community is active and it's moderators work hard to keep the discussion going. [Daniel] has just opened up a Facebook page as well for those who aren't into Google+. It's a really great example of what the future of making physical things will look like.
If you'd like to check it out:
Lastly, we'll leave you with a small interview with [Daniel]:
How did OpenR/C get started?
It all started with me getting my first desktop 3D Printer, a MakerBot Thing-O-Matic. I wanted do a fun project that showcased what could be done on a Desktop 3D Printer. An R/C car seemed like the perfect candidate as it presents a lot of challenges with somewhat intricate moving parts along with the need of a certain level of precision and durability.

After releasing the second project, the Open R/C Truggy, it quickly became popular and to have a place where people could ask questions and share ideas. I decided to start a community on Google+ and so The OpenR/C Project was born…
What are the project's goals and ethos?
Come to think of it I don't think that I have ever had a "goal". I just enjoy the possibilities given by having my own desktop 3D Printer, and the OpenR/C Project is just one of many ways to share with the world something I love to do. I hope the OpenR/C Project will inspire more people to get into 3D Printing, it doesn't matter if it's to 3D Print an OpenR/C project or just make something of your own. I want to share the feeling of enjoyment of being able to make digital objects come to life.
The project is based around the idea of sharing ideas with each others and having fun.
How long have you been working on it? Are you the project's founder?
I started working on the first 3D printed OpenR/C car back in 2012. It's not that long ago but it feels like such a long time ago because so much has happened since then.

I started the OpenR/C Project & Community early 2013.
How active is the community?
I'd say it's active in that people are engaging the different projects all the time all over the world. Some like to share their work and progress, some ask questions and shares ideas and like to do their thing on their own. I'm so stoked to see so many people building these projects especially as I know it's not always an easy task to build your own 3D Printed R/C car, Quad or other.
Where would you like to see it go?
It will be interesting to see what happens as the 3D Printers and materials in particular reach new levels. As precision and durability get better who knows what will happen! Of course it would be a dream to see the community get bigger and bigger and people still sharing their creations and knowledge with such an open spirit.
How can someone participate, and what is expected from them in the community?
You can go to my website www.danielnoree.com and check "Downloads" under which there there are links to a bunch of sites where you can download files for the OpenR/C projects.

If you want to participate, you can just download and build your own. You can improve or build upon existing projects, or create your own. Then all you need to do is to have fun, enjoy the ride and share your own work with the community.
The project really show's what's great about all these small revolutions in home manufacturing. It wasn't too long ago that you could either pick excessive money or excessive labor as the way to build a custom R/C, or anything else like it. With printing and other methods lowering the barrier to entry and increasing the speed at which things can be made, many previously unthinkable projects are seeing the same quick iteration and design that personal computing brought to, well, computing.