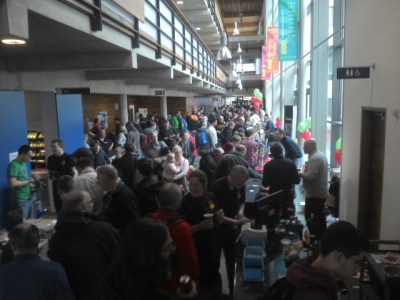 On a damp and cold Saturday in early March the Cambridge University Computer Laboratory threw open its doors to the Raspberry Pi community. The previous Monday had been the fourth (or first, if you are a leap year pedant!) birthday of the little single-board computer, and last weekend saw its official birthday celebration.
The festivities took the form of an exhibition floor with both traders and community show-and-tell exhibits, plus a packed schedule of workshops and talks. With the Raspberry Pi 3 launch only a few days before there were no surprise announcements of exciting new hardware, but it did provide a good networking opportunity for the Pi community and a chance to test the state of the Raspberry Pi nation.
The most obvious first impression at the event was that it was one that catered for a diverse range of ages and ability groups. Side-by-side with parents and their children were educators, and the maker community. The range of exhibits was therefore slanted somewhat towards a younger age range with games and interactive exhibits, and there was more than a slight educational flavour to the event. This was entirely in keeping with the Foundation's objectives, and since it is events like these that are inspiring the Hackaday readers of the next decade, a very welcome sight. Join us after the break for a look at all that was happening at the event.
The talks followed two streams: a lecture theatre for people in the education world, and one with a more technical programme. Saturday's highlights in the latter theatre came from [Charlotte Godley] with Musical Python, [Alex Eames] of raspi.tv fame with a breakdown of the pros and cons of running a Kickstarter campaign, [James Hobro] explaining concurrent programming on the multicore Pi boards, and [Richard Hayler] on Astro Pi.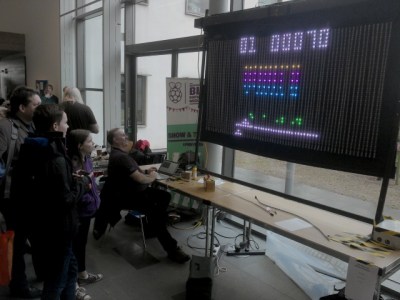 One side of the concourse was devoted to trade stalls, while the other held community show-and-tell stalls. CamJam were there, with an impressive array of robots and a Pi-powered 3D scanner, while Cotswold Raspberry Jam and Astro Designs had the PiXi FPGA board-powered Connect 4 robot we featured here last week, and [Peter Onion] had a Pi-powered LED matrix playing Tetris. The biggest display exhibit on the community side though came from [Steve Upton]. His "Wall of enlightenment" is a 2m by 5m display made with over 70m of LED strips mounted on black cloth, and is quite a sight playing retro games.
At the commercial end of the concourse, as you might expect, were all the usual Raspberry Pi retailers. Alongside them were Pi manufacturer CPC, and Rapid Electronics who had taken the tack of providing a rather tempting range of tools. Microsoft were there showing off Windows 10 IoT Core, somewhat fitting in a building named for their founder.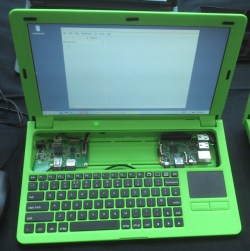 Smaller manufacturers were also out in force, among them PiBorg showing off their robotics kit, IQAudio with a range of audiophile add-ons for the Pi, and Seven Segments of Pi with educational boards. Launching a small electronics enterprise can be tough, and it is these kind of companies that deserve our support as they provide some of the fuel that stokes our own maker furnaces.
Finally among the commercial stalls were Pi-Top with their Raspberry Pi-powered laptop. This is a project we've mentioned before in passing here on Hackaday, and now they have graduated from their crowdfunding campaign and offer a sober black model alongside their trademark lime green. This event may have been the largest ever gathering of Pi-Tops in one place, at times it seemed as though everybody had one.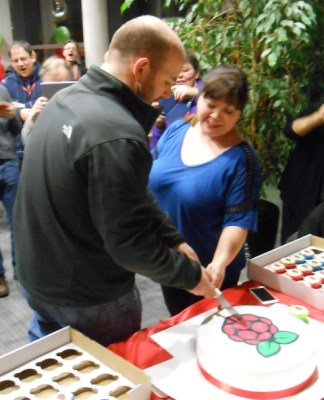 At the end of the festivities there was an after-show party, at which some unusual Raspberry Pi drinks were on offer. Fuzzy Duck Brewery's Pi-brewed Irration Ale – a beer with more than just a hint of raspberry about it – and some extremely good real cider – as you might guess it featured raspberries in its ingredients – courtesy of Foundation CEO Phil Colligan, who it turns out is a craft cidermaker when not charting the course for the fruity single-board computers. Eben and Liz Upton cut a huge birthday cake, everybody cheered, and an outrageous amount of pizza was consumed.
So that's it. The Raspberry Pi has turned four years old, and this event celebrated that birthday with all the positive spin that the Foundation could muster. And it is a record for them to be proud of, even their fiercest critics would have to admit that it has been the Raspberry Pi boards that have set the standard in price which the other board manufacturers must follow and which has given us as makers some of our most useful tools.
It is worth taking a moment here to mention the venue. The William Gates Building is a fairly new structure, but the institution it houses has held a pivotal role in so many of the computing innovations we take for granted today. On static display they have a range of artifacts from their history, from 1950s magnetic core stacks through the Acorn Archimedes that powered the world's first webcam (sadly the Trojan Room it once served is no more) to one of the Raspberry Pi prototypes. Should you ever find yourself visiting the building these exhibits are well worth seeking out.
---
Disclosure: Jenny List runs Oxford Raspberry Jam, at Oxford Hackspace. As such she was there at the behest of the Raspberry Pi Foundation, to attend a meeting for Jam organisers. Her Jam organising predates her writing for Hackaday.