When Jeffrey Brian "JB" Straubel built his first electric car in 2000, a modified 1984 Porsche 944, powered by two beefy DC motors, he did it mostly for fun and out of his own curiosity for power electronics. At that time, "EV" was already a hype among tinkerers and makers, but Straubel certainly pushed the concept to the limit. He designed his own charger, motor controller, and cooling system, capable of an estimated 288 kW (368 hp) peak power output. 20 lead-acid batteries were connected in series to power the 240 V drive train. With a 30-40 mile range the build was not only road capable but also set a world record for EV drag racing.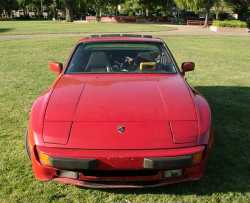 The project was never meant to change the world, but with Tesla Motors, which Straubel co-founded only a few years later, the old Porsche 944 may have mattered way more than originally intended. The explosive growth between 2000 and 2010 in the laptop computer market has brought forth performance and affordable energy storage technology and made it available to other applications, such as traction batteries. However, why did energy storage have to take the detour through a bazillion laptop computers until it arrived at electro mobility?
You certainly won't find that grail of engineering by just trying hard. Rather than feverishly hunting down the next big thing or that fix for the world's big problems, we sometimes need to remind ourselves that even a small improvement, a new approach or just a fun build may be just the right 'next step'. We may eventually build all the things and solve all the problems, but looking at the past, we tend to not do so by force. We are much better at evolving our ideas continuously over time. And each step on the way still matters. Let's dig a bit deeper into this concept and see where it takes us.
Variation And Innovation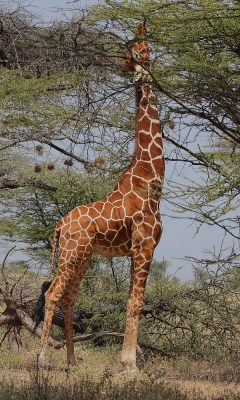 In nature, the pioneer of building things that matter, there is a strong preference for variation over innovation when it comes to novelties. Modern Evolutionary Synthesis describes, that any change in the blueprints of a species must happen gradually. For any new feature to prevail, the smallest possible manifestation of it must prove itself beneficial, so that it can be naturally selected. It may then continuously develop into a more pronounced form. For example, in the evolutionary development of the giraffe, even a marginally longer neck brought the benefit of browsing in a slightly less competitive layer of vegetation, thus, a continuous lengthening of the neck and legs could follow. Leaps, and in that sense, innovations, are still possible within one generation, but unless environmental changes require them, natural selection is unlikely to give innovations any preference. In nature, innovations are extremely rare, and often reflect a series of rather dramatic changes in environmental conditions. Innovations are still key to many evolutionary developments, such as human language and culture, but occur inherently chaotic.
To apply this idea to the case of our traction battery, before 2003 electro mobility would have required leaps in both battery technology and manufacturing, and given the fact that mobility itself was not a problem, there was not much pressure for such a leap to happen – or to be funded. Compromises, such as smaller cars or short-range vehicles, appeared to be rather quirky and were discontinued soon. Laptops and other portable devices, however, rewarded even small, gradual improvements with the instant and real benefit of a slightly longer battery runtime.
To make use of this evolutionary concept for our task to build "something that matters", we could identify and go for novelties, even innovations, that can grow through gradual changes themselves or benefit from gradual changes in other fields. This smallest useful increment can be a powerful lever for larger matters. Some entrepreneurs may call this the "MVP approach" or the "minimum viable product", and it can be extremely useful if you're not equipped with a nation's defense budget to fund your technological quantum leaps.
The Ruby Laser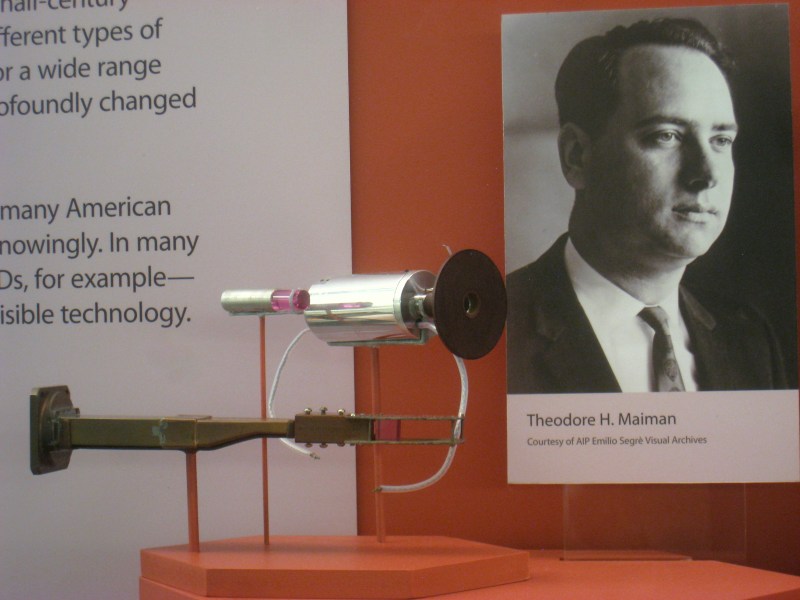 In 1958, the idea of the laser was all the rage. Nobody really knew what it was good for, but physicists who had seen the blaster rifle in Forbidden Planet may have found it was just cool. Following the groundwork of a paper on laser theory by Arthur L. Schawlow and Charles H. Townes, many labs tried to build lasers at that time. However, nobody could inject enough energy into a laser medium to start the desired chain reaction called lasing. Some even said it was impossible and known artificial light sources simply were too inefficient.
Physicist Theodore Maiman had just the right idea: Instead of using lamps, he realized that the short but intense light pulse of a photo camera flash would fix the efficiency problem, all he had to do was buy a suitable flash unit. He built the world's first laser from a helical xenon flash tube, a synthetic ruby rod, two mirrors and a reflective metal tube enclosure in 1960. The hack worked and inspired other laboratories to rework their approaches, but for years, nobody had a use for the ingenious device. At that time, tattoos had not even become mainstream, so no kids needed theirs removed. After the first lasers showed up in 1960, the invention idled for 14 years until the first bar code scanner made use of it.
Being Ahead Of Your Time
In 1958, all required ingredients for building a laser were not only available, they had become cheap: Powerful xenon flashes had been used for years in photography. The synthesis of flawless, artificial ruby, which itself had come a long way through 80 years of research, had reached a phase of mass production. When Schawlow and Townes published their work, it revealed a strong potential differential between what's doable and what has already been done – to those who could see it.
If you are a polymath, seeking to build "the next big thing", you may look for similar potential differentials. They have become rarer in the information age, but they still tend to build up between different technological fields or industries. Just like Maiman was aware of the flash, you may find a solution to another unsolved problem, too.
Still, because in practice the laser was way ahead of its time, only a few laboratories were willing to fund laser research. Labs and physicists, who decided to join the competition to be the first may have shared a certain enthusiasm for doing "what can be done". Of course, being the first is prestigious, and you have to decide how much that matters to you.
Recombining and Rethinking, Repeating
Over at Hackaday.io, you can see people building anything from flying lawnmowers to deep learning smart homes. No, you can't challenge Hackadayers easily, and still, the Hackaday Prize seeks to do exactly that with a simple task: Build Something that Matters. Of course, it's not really a task, you might say, it's neither specific nor can it's fulfillment be measured. It is, however, a beautiful challenge, and accepting it may add meaning to any project out there beyond specifications or requirements.
The examples above are only snapshots taken from more or less recent hardware builds that may have mattered positively in a global and historical context, chosen purely to inspire you. Yet, they were variations and recombinations of mostly existing hardware and existing ideas. They also show how far you can get with your own two hands and the determination to pursue a project. It is important to realize that most of the actual development, this hard portion that really matters, happens along the way. Great visions and innovations are always part of the big picture, but they don't control the pace, and they don't add meaning. In that sense, something starts to matter as soon as you start pursuing it. How to build something that matters? Just start building.