Let's talk about tilt sensors for a second. The simplest tilt sensors – the dead simplest – are a few ball bearings rolling around in a small metal can. When the can is tilted, the balls roll into a pair of electrical contacts, completing the circuit. How about a drop of mercury in a glass ampule with a few contacts? Same thing. You can get more expensive tilt sensors, including a few that are basically MEMS gyros, but they're all pretty much the same. For [Aron]'s project for the Hackaday Prize, he's come up with a tilt sensor that is so clever, so innovative, and so elegant, we're gobsmacked by his creativity.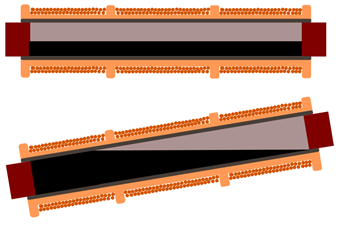 Instead of electrical contacts or gyroscopes, [Aron] is using induction to measure the tilt of a sensor. By wrapping a tube with one long primary winding of copper wire, and several secondary windings in various places, [Aron] built a Linear Variable Differential Transformer. If you insert an iron rod inside this transformer, different voltages will be induced in the primary. Simple, and this device is effectively a position sensor for any ferrous material.
Now for the real trick: put ferrofluid in the core of that transformer. Liquids always find their level, and different tilts will induce different voltages in the primary. Brilliant.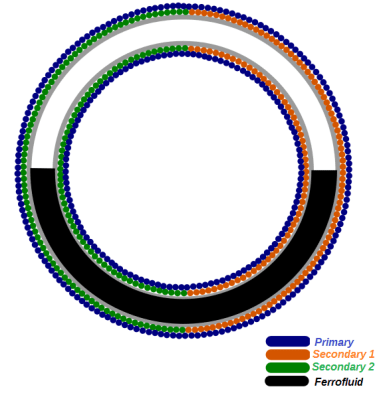 A linear transformer only gets you a tilt sensor, but not one that will measure 360 degrees. If a tube works well, a torus would work better, leading [Aron] to his next great invention.
This toroidal linear variable differential transformer, when filled with ferrofluid, can measure three hundred and sixty degrees of tilt to an accuracy of one ten-thousandth (0.0001) of a degree. That's shockingly good resolution for any tilt sensor, and it can do it through a full rotation.
We're always amazed by the project on Hackaday.io, and especially the project entered in this year's Hackaday Prize. What [Aron] has done here is so clever, and so elegant, we're shocked we haven't seen this before. Finally – a use for ferrofluid besides playing with magnets.
You can check out the video demo of [Aron]'s torridal tilt sensor below.