If you take a head of romaine lettuce and eat all but the bottom 25mm/1inch, then place the cut-off stem in a bowl of water and leave it in the sun, something surprising happens. The lettuce slowly regrows. Give it a few nutrients and pay close attention to optimum growing conditions, and it regrows rather well.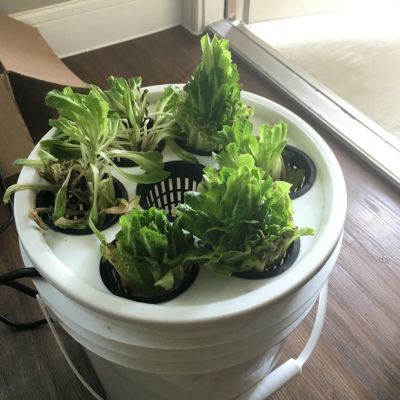 This phenomenon caught the attention of [Evandromiami], who developed a home-made deep water culture hydroponic system to optimise his lettuce yield. The lettuce grows atop a plastic bucket of water under full spectrum grow lights, while an Intel Curie based Arduino 101 monitors and regulates light levels, humidity, temperature, water level, and pH. The system communicates with him via Bluetooth to allow him to tweak settings as well as to give him the data he needs should any intervention be required. All the electronics are neatly contained inside a mains power strip, and the entire hydroponic lettuce farm lives inside a closet.
He does admit that he's still refining the system to the point at which it delivers significant yields of edible lettuce, but it shows promise and he's also experimenting with tomatoes.
Our community have a continuing fascination with hydroponic culture judging by the number of projects we've seen over the years. This isn't the first salad system, and we've followed urban farming before, but it's winter strawberries that really catch the attention.