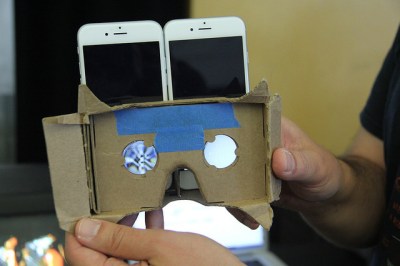 Here at the Vintage Computer Festival, we've found oodles of odds and ends from the past. Some, however, have gotten a modern twist like [bitfixer's] recent Commodore PET project upgrades.
First off is [bitfixer's] Augmented Reality upgrade. By the power of two iPhones and one raspberry Pi, the user dons a Google-Cardboard-esque heads-up-display and can visualize a 3D, ASCII rendering of the world before them. Not only does this view show up in the HUD, however, it's also streamed to a Raspberry Pi whch then serializes it info a video display on the Commodore PET.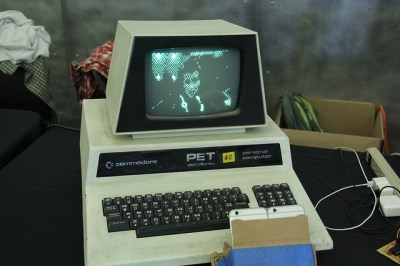 This hack builds on some of [bitfixer's] prior work getting ASCII video streaming up-and running. Of course, the memory on the Commodore PET is nowhere near capable of being able to process these images. In fact, streaming and storing the video data onto the PET's memory would fill it up in under one second! Instead, [bitfixer] relies on some preprocessing thanks to the far-more-powerful (by comparison) Raspberry Pi and iPhone processors that are capturing the images.
Next off is [bitfixer's] full-color video display on the same Commodore PET. Again, leveraging another RaspPi to encode and reduce the video to bitmap images, the Commodore PET simple grabs these images and streams them to the screen as fast as possible–at a beloved 5.8 frames per second.