[ajw61185] made a video overview of a radio-controlled A-10 jet modified to spew a hail of harmless Nerf balls as it strafes helpless cardboard cutouts of T-72 tanks on a bright, sunny day.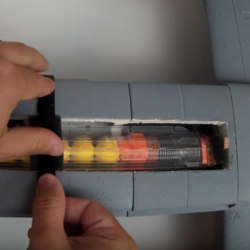 The firing assembly in the jet comes from a Nerf Rival Zeus Blaster, which is itself an interesting device. It uses two electric flywheels to launch soft foam balls – much like a pitching machine. With one flywheel running a little faster than the other, the trajectory can be modified. For example, a slight topspin gives the balls a longer and more stable flight path. Of course, foam balls slow down quickly once launched and at high speeds the aircraft can overtake the same projectiles it just fired, but it's fun all the same.
Cramming the firing assembly into aircraft took some cleverness. The front of the jet contains the flywheel assembly, and a stripped-down removable magazine containing the foam balls fits behind it. A flick of a switch on the controller spins up the flywheels, and another flick controls a servo that allows the balls to enter the firing assembly and get launched. The ammo capacity on the jet is low at only twelve shots per load, and it fires all twelve in roughly half a second. Since the balls are fired at the ground in a known area, they're easy to retrieve.
Even better than a higher ammo capacity would be a first person view cockpit, but after cramming in a Nerf blaster there might not be much room left even in a model as large as the FreeWing A-10. On the other end of the scale for aircraft are models so tiny that even outfitting them with the bare essentials of controlled flight is an achievement.
[via TFB]