When was the last time you went to a library? If it's been more than a couple of years, the library is probably a very different place than you remember. Public libraries pride themselves on keeping up with changing technology, especially technology that benefits the communities they serve. No matter your age or your interests, libraries are a great resource for learning new skills, doing research, or getting help with just about any task. After all, library science is about gathering together all of human knowledge and indexing it for easy lookup.
It doesn't matter if you're not a researcher or a student. Libraries exist to serve everyone in a class-free environment. In recent years, patrons have started looking to libraries to get their piece of the burgeoning DIY culture. They want to learn to make their lives better. Public libraries have stepped up to meet this need by adding new materials to their collections, building makerspaces, and starting tool libraries. And this is in addition to ever-growing collections of electronic resources. Somehow, they manage to do all of this with increasingly strained budgets.
The purpose of this article is to explore the ways that libraries of all stripes can be a valuable resource to our readers. From the public library system to the sprawling academic libraries on college campuses, there is something for hackers and makers at all levels.
To the Library, and Step on It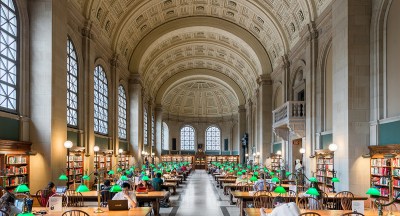 Before the Internet, before MSN Encarta, before Encyclopedia Britannica, there was the public library. Maybe the L word sends you back to elementary school when you were just tall enough to peek into the top drawers of the card catalog and thumb through the hand-typed entries. Maybe you're young enough that you've always known the public library to have free Internet access and rows of computers available for playing Minecraft and updating Hackaday.io.
Some would argue that the internet and the rise of e-readers have made libraries an outdated concept or even obsolete. And libraries pride themselves on keeping with the times. In spite of their place in popular culture, libraries aren't just about overdue books and being reprimanded for talking. They have offered popular movies and music alongside books for years (these days as streaming resources), and they continue to keep up with changing technology. Not only do they buy into new technologies as much as budgets allow, most public libraries offer free classes to help explain it.
Public libraries have long been a good starting place for the do-it-yourselfer. Just take look at the reference section sometime. You can find a service manual to fix your car or a copy of the latest National Electrical Code Handbook. Can't afford the 3rd edition of The Art of Electronics or the latest Raspberry Pi cookbook? The library has your back. Those books we think you should read are in the stacks as well. Whether you prefer to read about a new skill or watch a DVD, a librarian can lead you to just the right material—it's part of the thrill of library science. Librarians love information sharing and learning so much that it's no surprise that they would use their limited budgets to make room for makerspaces.
Making Space for Making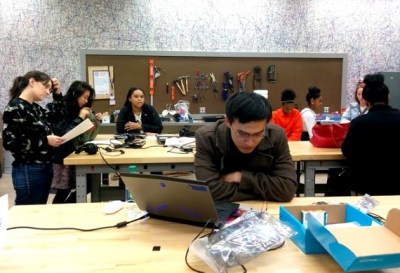 I'm writing this from the newly expanded makerspace in the central branch of my local public library. A year or so ago, this library had a small makerspace set up in the middle of the main room. A healthy collection of books about making and robotics sat outside of it to draw people in. During the renovation project, the makerspace grew six times its size thanks in part to a generous donation from a locally based engineering firm. Now, most of the equipment you would expect to find in a makerspace is here—3D printers, a laser cutter, a CNC, sewing machines, hand tools, soldering irons—and it's all completely free to use. And thanks to the aforementioned donation, the 3D printer filament is free to use, at least for now.
If you can't justify the cost of a makerspace membership to print a one-off replacement doohickey for your washing machine or make a cutting board in the shape of your home state, get yourself to a library. Not only will you be able to finish your project for next to nothing, there will be plenty of knowledge and helpful people around to guide you.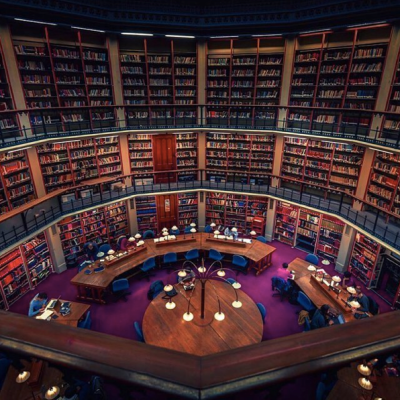 Let Me School You on Academic Libraries
Not a card-carrying student of your local college? Depending on the library, it may not matter. I've taken classes at the community college for years. I visit their impressive library as often as I can, whether I'm taking a class or not. Sometimes I go there just to bask in the knowledge around me or contemplate my existence in the deafening silence of the 2nd floor quiet room.
There are some important differences between public and academic libraries. Academic libraries are either general-knowledge or they cater to a specific discipline such as engineering or law. Compared with public libraries, academic libraries tend to have more of every type of material and usually have copies of textbooks used by the school. In the US, they use the Library of Congress classification system which allows for greater nuance in categorization within a given collection than the Dewey Decimal System. While public libraries offer access to databases like JSTOR and reference materials such as the Oxford English Dictionary, an academic library card is your ticket into many more databases and academic journals.
Check Out This Chainsaw
In the last decade or so, public libraries in the United States have begun to offer many more types of materials to borrow, like Kill-A-Watt meters. Some offer more diverse objects like musical instruments, gaming consoles, fishing poles, and works of art. A handful of public libraries have even created separate tool libraries to supplement their offerings. Patrons can check out all kinds of tools and equipment just like they would a book or a DVD. Most libraries offer tool checkout at no additional charge—you just need to show your library card and maybe proof of residence.
The are also community tool libraries out there that operate independently from the public library system. Here is a map of known tool libraries throughout the world. If there isn't one in your town, consider starting one up.  You might be surprised at the response and support that you get from the community.
We've all got projects that we'd like to start or work on or finish, if only we could borrow a spokeshave or a chainsaw or some inside calipers. By the same token, we probably all have something we could donate to a tool library, be it a simple screwdriver or a few hours a week of volunteer time.
If you're not sure how to get started, here is a guide that was put together by West Seattle Tool Library. It has sample forms and documents that can be edited to fit your needs. Oh, and don't forget to buy some liability insurance to protect yourself.
Tool libraries are a boon to the community no matter who runs them. When people have access to the things they need to be able to make home improvements and repairs or solve their own transportation problems, the world becomes a better place.
The mission of libraries hasn't changed — they seek to provide access to information for all members of society. With the rise of freely available online information, libraries have modernized to include online access and continue to offer a conduit to that which isn't free: audio and visual media, journal subscriptions, manuals and documentation, electronic devices, and yes, even tools. The public library deserves a higher rank in all of our mental lists of go-to resources and is a great place to donate some of our time and talent to contribute back to the local community.