When the guys at [Practical Engineering] say they have a dirty car stand, they really mean it! They made a block of dirt and sheets of fiberglass as reinforcement material, and the resistance was put to test by using it as a car stand. And yes, the block does the job without collapsing.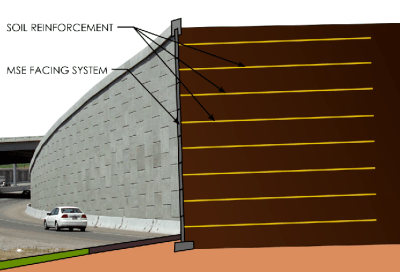 Soil is a naturally unstable material, it relies only on friction for structural stability, but it has a very low shear strength (the resistance of the material's internal structure to slide against itself). Therefore, as soon as you put some weight, a soil structure fails. The trick is to form a composite by adding layers of a stiff material. Those layers increase the shear strength and you end up with an incredibly strong composite, or 'mechanically stabilized earth' (MSE). You probably drive by some everyday, as in the picture at the right.
Even though the modern form of MSE was due to French engineer Sir Henri Vidal, reinforced soil has been used since the beginnings of human history, in fact, some sections of the Great Wall of China were made using this technique. [Practical Engineering] explanation and demonstration video is very well made, be sure to check it after the break. In case you don't want to play with dirt next time you need to fix your car, you can always make a 3D printed jack.