It is said that "success has many fathers, but failure is an orphan." Given the world-changing success of radio in the late 19th and early 20th centuries, it's no wonder that so many scientists, physicists, and engineers have been credited with its invention. The fact that electromagnetic radiation is a natural phenomenon that no one can reasonably claim to have invented sometimes seems lost in the shuffle to claim the prize.
But it was exactly through the study of natural phenomena that one of the earliest pioneers in radio research came to have a reasonable claim to at least be the inventor of the radio receiver, well before anyone had learned how to reliably produce electromagnetic waves. This is the story of how a Russian physicist harnessed the power of lightning and became one of the many fathers of radio.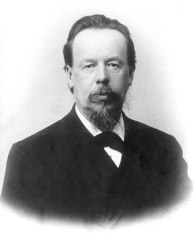 Alexander Stepanovich Popov was born in 1859 in the Ural mountain mining town of Krasnoturyinsk. Expected to follow in his father's footsteps and become a priest, he instead chose to study the natural sciences and enrolled in the St. Petersburg University in the physics department.
After graduating and winning an appointment as an instructor at the Imperial Russian Navy's Torpedo School in 1883, he turned his attention to electrical phenomena. The late 19th century was an exciting time in electrical research, when James Clerk Maxwell's elegant equations predicting electromagnetic waves were just starting to be explored. It was a time when great minds like Heinrich Hertz, Oliver Lodge, and J.C. Bose were all working with the latest tools and instruments to probe the mysteries of Maxwell's work.
The primary tool for detecting radio waves at the time was the coherer. Invented by Lodge based on the observation by Edouard Branley that powdered metal could conduct electricity after being exposed to electromagnetic waves, the coherer was a simple tube filled with iron filings between two electrodes. Initially, the resistance across the electrodes was relatively high thanks to the loosely packed powder and oxide coatings on each grain. A passing radio wave would cause the grains to almost weld together — sometimes sparks were reported coming from the coherer tube — which lowered the resistance enough to conduct electricity. Lodge had used his coherer to detect "Hertzian waves" in 1894, shortly after the death of their namesake.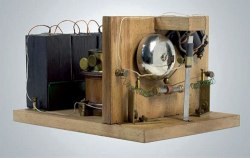 In his Naval School lab, Popov read of Lodge's discovery and decided to explore it further. Being of a naval bent, he was concerned with the weather and atmospheric phenomena, and wondered whether a coherer could detect the electromagnetic signature of lightning. He set about building his own coherer, improving the design by building in an automatic decoherer.
A coherer is a one-shot device: once it detects a signal, it needs to be mechanically restored to the high resistance state by tapping to release the adhered metal granules. Popov's decoherer was cleverly coupled to the bell used to signal a detected wave; once the clapper had struck the bell it would spring back to rest after tapping the coherer tube to jostle its contents.
Another Popov innovation was the addition of a pair of chokes on either side of the coherer to prevent strong AC signals from coupling with the DC circuits of the detector. Popov is also credited with the first legitimate radio antenna — he connected a long wire antenna to the coherer and, critically, attached the other end of the coherer to an earth ground.
On May 7th, 1895, Popov demonstrated his "storm indicator" to the Russian Physical and Chemical Society. How exactly he got Mother Nature to cooperate and produce a detectable lightning bolt during the demonstration isn't clear; we can only assume a spark gap was used to simulate lightning for the gathered scholars. Popov did perform more experiments later that summer and managed to detect lightning some 20 miles distant, though, and managed to improve the world's first radio receiver.
The potential value of his invention was not lost on him. He ended a paper written in early 1896 with a prediction that his receiver would form half of a complete wireless communication system "if only a source of such vibrations [radio waves] can be found possessing sufficient energy." A few months later in March he had succeeded in doing just that with a transmitter powerful enough to reach his receiver 800 feet away. Unfortunately for Popov, Guglielmo Marconi had been working along similar lines and in June 1896 filed a patent for his radiotelegraph system. Lacking any documentation of his March demonstration, Popov could only protest Marconi's claims and carry on.
Popov's naval employers took interest in his system and allowed him to start experimenting with ship-to-shore communications. By 1900 he had established a wireless station on an island in the Gulf of Finland that would process hundreds of official ship-to-shore messages and play key roles in the rescue of a stranded battleship and later fifty fishermen adrift on an ice floe.
It would seem that although Marconi was first to patent and will always be remembered as "The Father of Radio," Popov played a critical role in the engineering of radio. He demonstrated the first receiver, developed the decoherer, invented the first practical antenna, probably conducted the world's first wireless communication, and certainly used radio for the first time in a sea rescue. That's a fair number of firsts in a time when they were being racked up at a furious pace, and not a bad legacy to leave. Nor are the fact that May 7th is celebrated as Radio Day in Russia, and that the International Telecommunications Union (ITU) has a huge conference room in their Geneva headquarters named after him.