The types of steps and missteps the Wright brothers took in developing the first practical airplane should be familiar to hackers. They started with a simple kite design and painstakingly added only a few features at a time, testing each, and discarding some. The airfoil data they had was wrong and they had to make their own wind tunnel to produce their own data. Unable to find motor manufacturers willing to do a one-off to their specifications, they had to make their own.
Sound familiar? Here's a trip through the Wright brothers development of the first practical airplane.
Starting Out: Kites And Gliders
To give you an idea of their background, neither Orville nor Wilbur Wright had aeronautical training. Wilbur completed high school whereas Orville dropped out to pursue the printing business with Wilbur. For that, they'd designed and built their own printing press. In 1890, when the introduction of the safety bicycle caused a boom in the bicycle market, they switched to repairing and selling bicycles and by 1896 where making their own brand.
Many other experimenters around the world were pursuing heavier-than-air flight but with different approaches. Some treated flying as much like a boat on the water, using a vertical rudder for steering. Others felt that humans couldn't react fast enough to gusts of wind and tried instead make the craft inherently stable, for example, using dihedral wings. The Wright brothers disagreed with this and wanted to give the pilot full control.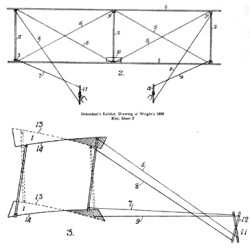 They observed that birds turned by changing the angles of the ends of their wings, causing their bodies to roll and change direction. They also felt this would help recover from tilting sideways due to side winds. One day Wilbur was idly twisting a long inner tube box in their bicycle shop when they realized they could twist the ends of their wings in a similar fashion, what they called "wing warping".
They proceeded with development in 1899 by building a bi-plane kite, or "double decker" as the Wrights called it, with a five-foot wingspan. It was tethered with lines from each wingtip going to control sticks. Rotating the control sticks in opposite directions would suitably warp the wings, making one side of the kite dip while the other rose, resulting in roll and a turn.

While some inventors at the time considered flat planes for wings, they decided to go with a camber for theirs, a wing with a curved upper surface, a concept that had first been talked about in scientific terms 100 years earlier by Sir George Cayley.
The brothers then looked for a location with a fast, steady wind for their next series of tests and settled on Kitty Hawk, North Carolina, far from their home in Dayton, Ohio. For free gliding, they also made use of Kill Devil Hills, a set of sand dunes up to 100 feet high just 4 miles to the south of the town of Kitty Hawk.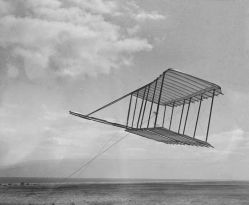 Their glider had a horizontal elevator in front of the wings, a feature also known as a canard and something that was fairly unique to the Wright brothers' planes. Their main purpose behind the horizontal elevator was to help keep the glider's center of pressure at the same location as its center of gravity. Without that a plane couldn't maintain horizontal flight. The elevator could also be tilted back and forth for angling the glider upward or downward to control ascent and descent. Tests in 1900 showed that the elevator worked well.
However, they got less lift from the wings than they expected. They returned in 1901 with a glider that had a larger wing area in hopes of getting more lift. However, they still got less lift than expected, even after making modifications to the curvature of the wings.
Fixing Lift — DIY Wind Tunnel
Initially they had designed the wings with the aid of data from Otto Lilienthal, another experimenter who'd done a lot with gliders, as well as a lift equation that had been in use for over a hundred years. The Wrights suspected both sources. The lift equation was:
lift = kSV2CL
where k is the coefficient of air pressure, also known as the Smeaton coefficient, S is the total area of the lifting surface, V is the relative wind velocity, and CL is the coefficient of lift.
Over the years there were a large number of possible values for the Smeaton coefficient, 0.0054 being the most popular. Using data from their flights with kites and the glider, the Wrights calculated a value of 0.0033 instead, close to a value which Langley, another aviation pioneer was using.
After returning to Dayton, to test the accuracy of Lilienthal's data, they mounted a bicycle wheel horizontally to the front of a bicycle. Attached to the wheel was a model wing mounted vertically on an axis whose angle relative to the oncoming airflow could be adjusted. Ninety degrees to that was a flat plate with its face facing the oncoming airflow, there to create drag. They rode this bicycle at a constant velocity when the surrounding air was near-calm. The goal was to find an angle for the wing that would exactly counteract the drag of the plate, at which time the wheel would not rotate. Lilienthal's data indicated that the angle should have been 5 degrees but they found it was around 18 degrees.
They then made a wind tunnel consisting of a sixteen inch square box that was six feet long. They made two balances to go inside and to which miniature wings could be mounted. One balance tested lift and the other tested drag. The wind tunnel had a window in the top for looking down at the balances in action and for taking measurements.
From the wind tunnel tests they came up with a new Smeaton coefficient. They also concluded that Lilienthal's data was fine, but applied only to the wing shape and curvature that he'd tested with.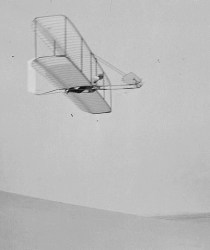 In 1902 they returned to Kitty Hawk with new wings. These wings had a longer wingspan and were narrower. They were also flatter, having less of a camber. All this was based on the best of their wind tunnel test results. They'd also replaced the bulky, rectangular elevator with a smaller ellipsoidal one.
All their painstaking wind tunnel tests paid off and in the first day's testing they flew it successfully as a kite with the tethers almost vertical. That was followed later that day by twenty-five equally successful glides.
Controlled Flight At Last
Another problem they ran into in 1901 was that the glider would sometimes turn in the opposite direction expected during the wing warping tests. This later became known as adverse yaw. To counter that their 1902 glider had two fixed, vertical tails, each six feet tall.
They did still have problems though, the last big one was what they called "well-digging". If the wings were low on one side (the right wings for example) and the pilot was slow to correct it, gravity would take over and the glider would begin sliding to the right. This then added air pressure on the right side of the fixed tail, which would cause the tail to move to the left and the right wingtip to move through the sand with a screwing motion, hence "well-digging". The solution they came up with was to replace the fixed tails with a single, hinged vertical tail that was tied to the wing warping system that would swivel in a way that aided the wing warping in lifting the wing.
With the well-digging gone, they felt they had what they needed in order to patent a three-dimensional system of airplane control. They were also ready to move on to the next step, powered flight.
Powered Flight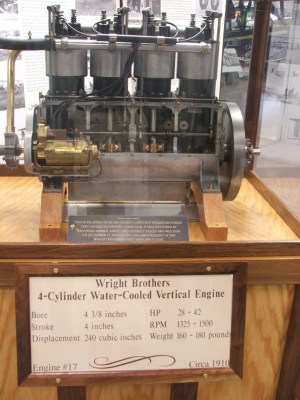 The Wrights were unable to convince a motor manufacturer to make a motor to their specifications so they had to make their own. Together with Charles Taylor, a mechanic and machinist who worked for the Wrights in their bicycle shop, they designed and built their motor using an aluminum crankcase cast in a local foundry, and a crankshaft made of high-carbon tool steel. It had four cylinders and the fuel was gravity fed.
For the propellers their research didn't turn up any formulas and so they had to theorize on their own. They decided that propellers were essentially wings that rotated in the vertical dimension, and so were able to use their wind tunnel data to design them. They made them a little over eight feet long out of three glued laminations of spruce. They concluded that the propellers were 66% efficient but modern tests indicate they were an even more impressive 75%.
The propellers were mounted behind the wing as pushers so as to not interfere with the airflow around the wings. Chains connected them to the motor. They knew that bicycle chains wouldn't be strong enough to turn the propellers so they used chains manufactured for automobile transmissions. To keep the chains from flapping they ran them through metal tubes. And to make them counterrotate, one of the chains was made to traverse a figure eight path.
In addition to adding power, numerous other tweaks were made resulting in the Wright Flyer I.
Test Flights
In 1903 they successfully tested the Wright Flyer I near Kitty Hawk, but after its fourth flight it was severely damaged when a powerful gust flipped it over multiple times, ending that year's tests. This is the one that now hangs in the Smithsonian in Washington, D.C.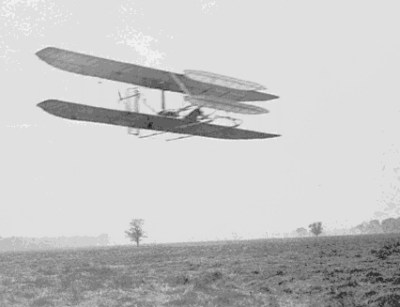 In 1904 they built the Wright Flyer II but from then on did testing at Huffman Prairie, a cow pasture near Dayton. Perhaps the highlight of this was the first flight ever of a complete circle by a manned heavier-than-air powered flying machine. 1905 brought the Wright Flyer III with more improvements, including enlarging the elevator and tail and moving them further from the wings. They also disconnected the tail from the wing warping system and gave independent control of it to the pilot, in keeping with their approach of giving the pilot full control of all three axes. Stability and control were greatly improved, culminating in a 24.5 mile flight in 38 minutes and 3 seconds, landing when the fuel ran out.
They were ready to bring it to market.
But if you think that flight's pioneering period just after 1900 was the only time home-grown inventors could expand flight's horizons you'd be wrong. The story of [Paul MacCready], his son and the many others who worked on the Gossamer Condor and human powered flight to win the Kremer Prize in 1977 has all the hallmarks for the Wright Brother's story you've just read. More recently a group that call themselves Aerovelo along with help from various other organizations, won the Sikorsky Prize for a human powered helicopter, Atlas, in 2013. Clearly there's still room for pioneering.