Just because you have a fancy new 3D printer doesn't mean that innovation should stop there. Almost everyone has had a print go foul if the first layer doesn't properly adhere to the printing platform — to say nothing of difficulty in dislodging the piece once it's finished. Facing mixed results with some established tricks meant to combat these issues, [D. Scott Williamson] — a regular at Chicago's Workshop 88 makerspace — has documented his trials to find a better printer platform.
For what he had (a printer without a heated plate), painter's tape and hairspray wasn't cutting it, especially when it came time to remove the print as the tape wouldn't completely come off the part. How then, to kill two birds with one stone? Eureka! A flexible metal covering for the printing plate.
The first test was with some aluminium flashing, once rolled out and cleaned, double-coated with hairspray and dried with a heat gun, and secured to the printing platform with clips. Unfortunately, that failed, along with a test using a wet coat of hairspray. However, the same plate with a coat from a glue stick worked almost perfectly!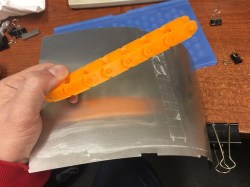 Next up was a steel plate using the glue-and-clip-down method, which yielded similarly successful results. The catch with using the clips is that it subtly warps the steel, which could cause printing deformities. How to mitigate the problem? Magnets, obviously.
[Williamson] used a sheet of "refrigerator magnet material" secured to the printing platform with double sided tape, and the steel plate laid on top. A quick coating from a glue stick and test print later produced his most successful results. The method is reliable as long as the glue was cleaned off every few prints. The only caveat is that if the print does somehow get snagged by the print head, the relatively weak magnet doesn't stand a chance, with the entire plate becoming dislodged!
A few years ago, we featured a home-built manufacturing line that used a similar concept, allowing a robot to replace printing platforms while the owner was out.