We've had our eye on [Greg Zumwalt]. He's been working on some very clever 3D-printed mechanisms and his latest prototype is an air engine for a toy car. You can supply the air for the single cylinder with a compressor, or by blowing into it, but attaching an inflated balloon makes the system self-contained.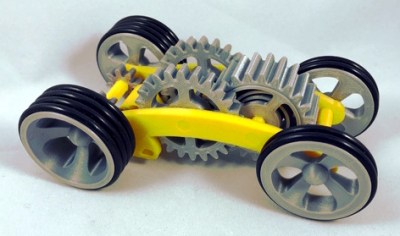 Last week we saw the prototype of the engine by itself, and wondered if this had enough power to drive a little train engine. We were almost right as here it is powering the front wheels of a little car.
This isn't [Greg's] first rodeo. He's been working on self-contained locomotion for a while now. Shown here is his spring-driven car which you pull backwards to load the spring. It's a common feature in toys, and very neat to see with the included 3D-printed spring hidden inside of the widest gear.
That print looks spectacular, but the balloon-powered prototype tickles our fancy quite a bit more. Make sure you have your sound on when you watch the video after the break. It's the chuga-chuga that puts this one over the top. [Greg] hasn't yet posted files so you can print your own (it's still a prototype) but browse the rest of his designs as you wait — they're numerous and will bring an even bigger smile to your face. Remember that domino-laying LEGO bot [Matthias Wandel] built a few years back? [Greg] has a printable model for it!