We love [lolomolo]'s Open Source electric longboard project. Why? Because he completely re-engineered everything while working on the project all through college. He tackled each challenge, be it electronic or mechanical as it came, and ended up making everything himself.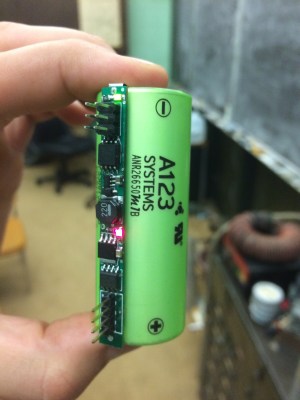 The 48″ x 13″ deck is a rather unique construction utilizing carbon fiber and Baltic birch. In testing the deck, [lolomol] found the deflection was less than an inch with 500 lbs. on the other end. He modified the Caliber II trucks to add four 2250W Turnigy Aerodrive brushless outrunners driving the wheels with the help of belts. The motors are controlled by VESC, an Open Source speed controller. There are a lot of fun details, like the A123 lithium cells equipped with custom battery management system PCBs.
The board sports 5W RGBW headlights that are so bright he can only run them at 10% PWM, plus RGB LED underlighting. All of it is controlled by an onboard Linux box. You can check out [lolomolo]'s GitHub repository for code, schematics, and CAD files. His Instructable for this project also has more design notes and thoughts.
If sweet longboards are your bag, check out the 3D-printed longboard and the long-distance electric longboard we published previously.