Electronics, metalwork, carpentry, sewing — however you express your inner hacker, you've got to have a place to work. Most of us start out small, assembling projects on the kitchen table, or sharing space on a computer desk. But eventually, if we're lucky, we all move on to some kind of dedicated space. My first "shop" was a corner of the basement my Dad used for his carpentry projects. He built me what seemed at the time like a huge bench but was probably only about five feet long. Small was fine with me, though, and on that bench I plotted and planned and drew schematics and had my first real lesson in why you don't reach for a soldering iron without looking first. My thumb still bears that scar as a reminder.
Many of us outgrow that first tiny space eventually, as projects (and accumulated junk) outpace the available space. Some of us go on to build workspaces to die for; personally, I feel wholly inadequate whenever I see Frank Howarth's immense wood shop, with its high ceilings, huge windows for natural light, and what amounts to a loading dock. Whenever I see it I think The work I could do in there!
Or could I? Is bigger necessarily better when it comes to workspaces? Would more space make me a better craftsman?
I doubt it. Personally, all a huge wood shop would be for me is a place to stash too much junk and an excuse to buy too many tools. Last year we moved across the country, and before we left I divested myself of most of my woodworking machines simply because it costs crazy money to ship heavy stuff. My intention was to build a new wood shop based mostly around hand tools, being generally smaller, quieter, and generating less dust. I told myself I'd only need a small space for a bench and some chisels, and that would force me to learn skills like hand-cutting dovetail joints. As I watched my tools go down the driveway at fire sale prices to Craigslist buyers, I cheered myself with the thought that in the end, it would make me a better woodworker.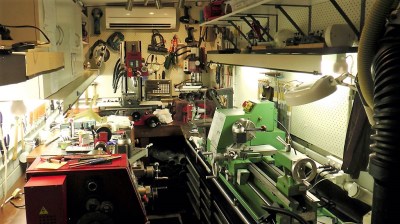 Even though I haven't built that space yet for lack of free time — somebody has to write these articles! — I still think a smaller workspace will be a net benefit. For inspiration on what kind of craftsmanship is possible in a tiny shop, look no further than Clickspring, the YouTube channel devoted to some of the most mesmerizing machining videos around, including a masterful open-frame clock.
Chris produces his works of art, both the timepieces and his videos, from a ridiculously small machine shop that covers a mere 6.5 square meters (70 sq ft). Stuffed into this long, narrow space are two lathes, a milling machine, a sturdy workbench, and plenty of well-thought-out storage. That Chris works mainly on clocks and other smallish pieces probably helps make the shop work, as does that fact that he can spread out into an outdoor space for large jobs or those that produce fumes. But picture yourself working in that space and turning out work of that quality. Apparently, size doesn't always matter.
Now it's your turn. How small a shop do you have? Does a small shop limit you in any way? Do you think it makes you a better craftsman? Is your small shop just a temporary space on the way to bigger and better thing? Sound off in the comments section below, and don't forget to share pictures of your shop, along with any tips you have for dealing with a small space.
Featured image: Mr. Carlson's Lab.