[Rory Johnson] writes in to tell us about PlyTop Shell, a Creative Commons licensed design for a laser cut wooden laptop that he's been working on since 2016. It's designed to accommodate the Raspberry Pi (or other similarly sized SBCs), and aims to provide the builder with a completely customizable mobile computer. He's got a limited run of the PlyTop up for sale currently, but if you've got the necessary equipment, you can start building yours while you wait for that new Pi 3B+ to arrive.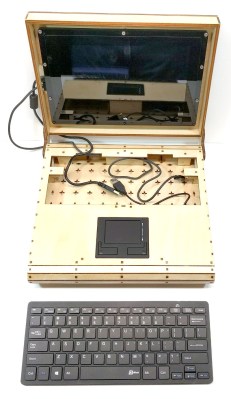 Originally [Rory] was working on a 3D printed design, but quickly ran into problems. The vast majority of 3D printers don't have nearly the build volume to print out a laptop case in one shot, so the design needed to be broken up into multiple smaller pieces and then grafted together into the final case. Not only did this take a long time and a lot of material, but the final result had the rather unfortunate appearance of a plastic quilt.
Eventually he got hooked up with a maker collective in Minneapolis that had a laser cutter, and the PlyTop was born. There's still a 3D printed component in the design that goes in the screen hinge, but the rest of the PlyTop is cut out of a three 2′ x 4′ sheets of 1/8″ Baltic birch plywood. As you might expect, plenty of fasteners are required, but [Rory] has a complete Bill of Materials (complete with purchase links) for everything you'll need to turn the cut pieces into a fully fledged laptop. He's considering selling kits in the future, but is still working on the logistics.
In keeping with the idea of complete flexibility, there's no defined layout for the internals of the PlyTop. Rather, there's an array of star-shaped openings on the bottom plate that allow the builder to connect hardware components up in whatever way works for them. [Rory] actually suggests just holding everything down with zip ties to allow for ease of tinkering.
He's also come up with a list of suggested hardware for the keyboard, touchpad, and display; but those are really just suggestions. The design is open enough that it shouldn't take much work to adapt to whatever gear you've got laying around.
Of course, this isn't the first open source laptop we've seen here at Hackaday. It isn't even the first wooden one. But we love the lines of the PlyTop and the focus on complete customization.