Since Autodesk acquired Eagle a few years ago, they've been throwing out all the stops. There is now a button in Eagle that flips your board from the front to the back — a feature that should have been there twenty years ago. There's parametric part generation, push and shove routing, integration with Fusion 360, and a host of other features that makes Eagle one of the best PCB layout tools available.
Today, Autodesk is introducing something revolutionary. The latest version of Eagle (version 8.7.1) comes with a manual serpentine routing mode, giving anyone the same tools as the geniuses at Nokia twenty years ago.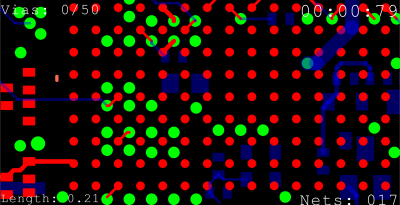 The new serpentine routing mode is invoked via the SNAKE command. This brings up serpentine routing interface, where you can add nets and place your serpentine router. Click anywhere on the screen, and you can route around pads and traces to collect all the vias, hopefully netting a high score.
There are some tricks to this new mode. Control and Shift change the speed of serpentine routing, and the current zoom level changes the initial speed. As you route between vias, the serpentine router grows longer, making routing significantly more difficult, but if you're up to the task you'll eventually get a 'You're Winner' screen.
This is just the innovation we've been looking for from Autodesk since their acquisition of Eagle. It's not push and shove routing, and it's not parametric part generation. Serpentine routing is the next big thing in EDA tools, and already this routing mode is on the upcoming feature list for KiCad. The KiCad version of serpentine routing will be pronounced, 'sneak'.