Brand new today, we're going to go all in with the Robotics Module Challenge! This is the newest part of the 2018 Hackaday Prize which is only six weeks old, and already we've seen almost six hundred incredible entries. But a new challenge means a fresh start and a perfect time for you to begin your entry.
This is your call to build a module that can be used in robotics projects across the world. Twenty module designs will be awarded $1,000 and and chance at the five top prizes including the $50,000 grand prize!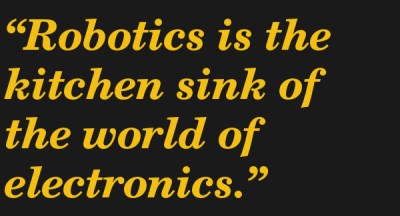 Robotics is the kitchen sink of the world of electronics. You have to deal with motors, sensors, spinny lidar doohickies, computer vision, mechatronics, and unexpected prototyping issues accounting for the coefficient of friction of 3D printed parts. Robotics is where you show your skills, and this is your chance to show the world what you've got.
Wouldn't it be great if there were some more ways to skip around the hard parts? That is the Robotics Module Challenge in a nutshell. We want to see great modular Open Hardware designs that can be used by roboticists all over the world. This might be a motor controller, a chassis or limb design system, a sensor network scheme, a communications system, data collection and delivery — basically anything related to robotics. Build a prototype that shows how your module is used and document all the info needed to incorporate and riff on your design in other robot builds.
Start your entry now and show us your take on a great bit of Open Hardware.
The Robotics Module Challenge for the Hackaday Prize is live right now, and runs until 7:00 am PDT on June 4th. We're looking for modules that can be used in robotics projects around the world. Show off something that makes a robot move, sense, interact, or think, and you'll be in the running for the Grand Prize of $50,000 USD.  Start your entry now!