With so many cool things going on at Bay Area Maker Faire, it takes something special to stand out from the crowd. Covering several hundred square feet of floor and wall with creations made of tape would do the trick. Welcome to Tapigami Tape City, a traveling art exhibit by [Danny Scheible].
Many of us used construction paper, glue, and tape to express our creativity in our youth. Tapigami's minimalism drops the paper and glue, practitioners of the art stick to tape. It is an accessible everyday material so there is no barrier to entry to start having fun. And while tape does have some obvious limitations, it is possible to get quite creatively elaborate and still use tape almost exclusively.
The Tapigami booth is very happy to accommodate those wishing to learn the way of tape. At their table, young and old alike are welcome to sit down and start building basic shapes out of masking tape. This begins with cones, cylinders, and cubes which are then combined into more complex creations — it's kind of like OpenSCAD, but all with tape.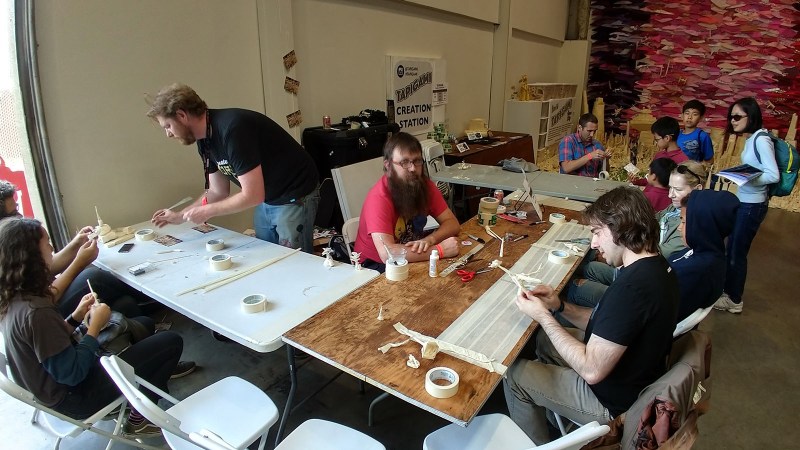 Attendees of Bay Area Maker Faire should not miss seeing Tape City in person, it's quite the sight to behold in the south-east corner of Zone 2. (Not far from the Tindie/Hackaday booth, stop by and say hi!) And while it's plenty of fun to stick to tape, we can see the Hackaday demographic taking these concepts up a few notches. If you've pulled off something mind blowing using tape, you know where our tip line is.