Technology vanishes. It either succeeds and becomes ubiquitous or fails. For example, there was a time when networking and multimedia were computer buzzwords. Now they are just how computers work. On the other hand, when was the last time you thought about using a CueCat barcode reader to scan an advertisement? Then there are the things that have their time and vanish, like pagers. It is hard to decide which category digital cameras fall into. They are being absorbed into our phones and disappearing as a separate category for most consumers. But have you ever wondered about the first digital camera? The story isn't what you would probably guess.
The first digital camera I ever had was a Sony that took a floppy disk. Surely that was the first, right? Turns out, no. There were some very early attempts that didn't really have the technology to make them work. The Jet Propulsion Laboratory was using analog electronic imaging as early as 1961 (they had been developing film on the moon but certainly need a better way). A TI engineer even patented the basic outline of an electronic camera in 1972, but it wasn't strictly digital. None of these bore any practical fruit, especially relative to digital technology. It would take Eastman Kodak to create a portable digital camera, even though they were not the first to commercialize the technology.
Kodak 1975
Steven Sasson, working for Kodak, received an early CCD image sensor from Fairchild in 1974. The going price for these, by the way, was $965 when they were introduced a year or so earlier. Kodak had an interesting blog post about the camera from the 2007 induction of Sasson into the Consumer Electronics Hall of Fame, although it seems to be gone. Luckily, you can still read it on the Internet Archive (the source of the still images of the Kodak device in this post are from the archived Kodak website).
Just like a bag phone doesn't look much like a cellphone, Sasson's 8-pound camera didn't look much like today's digital point and shoot — you can see it quite well in the video, below. Featuring a lens from a Super 8 movie camera, 16 NiCad batteries, and a cassette recorder, the box contained about a half dozen circuit boards that included an A/D converter design meant for a digital voltmeter. Even then it took 23 seconds to record one of the 30 pictures onto the cassette (although the 30 limit appears to have been arbitrary to mimic the number of shots on a roll of film which was usually 24 or 36).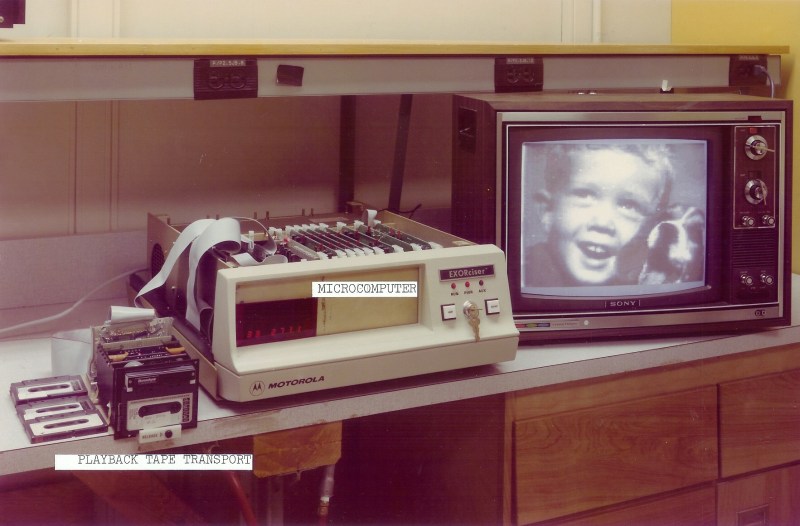 Even for all that, the camera's resolution was 100×100 4-bit greyscale pixels. Playback used a Motorola EXORciser to display the image on a TV screen — both of which weighed much more than 8 pounds and were decidedly non-portable. The camera wasn't meant to be practical but was effectively a research project. Sasson wasn't alone, of course, and is quick to credit other team members. There is even a patent on the technology.
Commercial Success
The first true portable digital camera that recorded images as a computerized file was created in 1988. The Fuji DS-1P in 1988, which recorded to a battery-backed 2 MB SRAM memory card that held 5 to 10 photos. Like the Kodak camera twelve years before, the Fuji was never actually sold.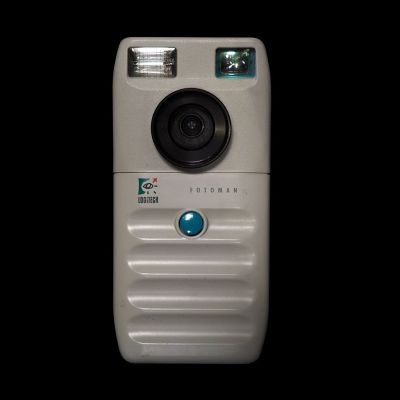 The first digital camera sold commercially was probably the MegaVision Tessera in 1987 but there is little information about it other than it was expensive (over $50,000) and tethered to a computer. The first commercial portable digital camera was sold in Japan in late 1989. The DS-1X by Fuji was a refined DS-1P and was also sold as a Toshiba IMC-100.
The first commercially available portable digital camera arrived in the United States late in 1990. The Dycam Model 1 didn't sell well at $1,000 with a low-resolution black and white image. The device eventually transformed into the Logitech Fotoman (pictured right). Kodak did make some early digital DSLRs, too, although they were not very recognizable.
When you think about it, a lot of technology had to come together to make Kodak's first camera practical. The image sensor was the obvious problem, but you had to solve the issue of storage, battery capacity, and the ability to view, share, and print images. Flash memory, better battery technology, PCs, high-bandwidth networking in homes, and color desktop printers were all practically science fiction in the 1970s.
Irony
Digital cameras have outsold film cameras since sometime in 2003. Kodak announced in 2004 that they would no longer sell film cameras in most markets. By 2012 they filed for bankruptcy and had to significantly restructure.
Common wisdom is that Kodak suffered greatly from not anticipating the digital camera revolution. That's a bit oversimplified, though, according to the Harvard Business Review. The real problem was that Kodak couldn't let go of its traditional business. When digital started to pick up, they saw it as a way to get people to print more pictures, not as a way that would eventually replace most printed pictures.
Regardless, you have to sense there was a missed opportunity of some kind here. As for my original musing, I think I've decided the standalone digital camera is squarely on the successful side of disappearing. But disappearing it is — at least from the consumer market. While the camera itself is disappearing, the image sensor inside is just migrating to a phone, a device that is consuming a lot of other devices for many people. There's still a fringe market for stand-alone GPS, but nothing like it used to be. Media players are the same. The devices are even cutting into traditional PC sales with the rise of a new generation often referred to as mobile-first. Digital cameras won't completely disappear as DSLRs are still a gold standard for serious photography.
I think the lesson to be learned here is twofold: First, when faced with a new technology, you have to imagine what it will do apart from your existing technology. Don't imagine digital imaging as another way to print. Imagine it as a new medium. But the other lesson is almost the opposite. Be sure to think about how it can fit in with your existing technology — even the non-obvious ones.
Granted, in 1975 few would predict that virtually everyone would walk around with a network-connected computer in their pocket. But by 2000 when Sharp introduced the first camera phone, you could make that leap of logic if you weren't too distracted thinking about your historical core business or technology.
There is quite a bit of history surrounding the whole digital camera thing. There were digital cameras earlier than Kodak's but they were not portable and were used in systems that didn't suggest the digital camera market ahead. There's a very interesting site with an extremely detailed timeline of events starting with a 1760 novel that — fictionally — had characters using a mirror that cured in the dark to show an image of the last thing it reflected. The list chronicles various achievements in photography all the way to the modern digital camera.