Foosball, also known as table football, is a classic game from the 1920s that is completely devoid of the bells and whistles of modern gaming. Players control stoic little figures with the most simplistic of input devices in order to move a tiny ball to and fro on the playing field. So naturally, somebody thought they should add a Raspberry Pi to it and drag the whole thing kicking and screaming into the 21st century.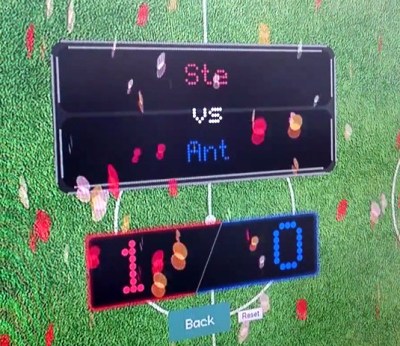 The team at [Matmi] spend a good portion of their down time huddled over a foosball table, but they found the experience was significantly less exciting for the spectators than the players. To add a little more pomp to their sessions they added a flashy display that not only shows the current score, but makes individual scores a bit more exciting by showing some celebratory confetti.
Micro switches mounted in the ball return tubes of the table allow the Raspberry Pi to know who scored and when. This information is picked up by the web-based scoreboard written in Vue.js and served out by nginx. The actual scoreboard is being displayed by a laptop that's connected to the Pi over Wi-Fi.
If the software setup seems a bit convoluted, it's because the project itself was something of a learning experience for HTML5 and web programming in general. Further updates are planned to streamline the system a bit to make it more self-contained, as well as adding more features to the scoreboard such as tournaments and randomized matches.
Interestingly, we've seen quite a few foosball hacks over the years. It seems these tables are somewhat ubiquitous in offices and hackerspaces. From turning it into an online-enabled experience to building an AI table you can play against, there's plenty of ways to inject some new life into this nearly 100-year-old game.