Sometimes, you move to a new city, and things just aren't going your way. You're out of cash, out of energy, and thanks to your own foolishness, your car's battery is dead. You need to jump-start the car, but you're feeling remarkably antisocial, and you don't know anyone else in town you can call. What do you do?
It's not a problem, because you're a hacker and you have a cordless drill in the back seat of your car. The average drill of today tends to run on a nice 18 volt lithium battery pack. These packs are capable of delivering large amounts of current and can take a lot of abuse. This is where they come in handy.
Typically, when jump starting a car, another working vehicle is pulled into place, and the battery connected in parallel with the dead battery of the disabled vehicle. Ideally, the working vehicle is then started to enable its alternator to provide charge to the whole system to avoid draining its own battery. At this point, the disabled vehicle can be started and its alternator can begin to recharge its own battery. After disconnecting everything, you're good to go.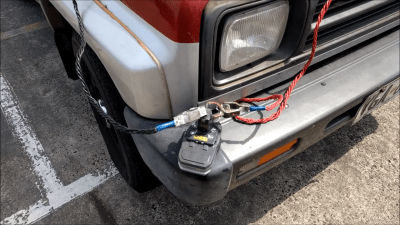 Being stuck in a (relatively) foreign land and not wanting to speak to anyone, I decided instead to substitute the other vehicle's battery for my RYOBI ONE+ drill battery. This presents several challenges and risks, however. The most basic problem of all is making a connection. Most drill batteries have a very unique molded connector designed to secure them mechanically into a drill, as well as make electrical contact. Trying to connect a sizable pair of automotive jumper leads to a terminal less than a square centimeter in area is difficult.
Worse, attaching jumper leads to such tiny terminals often puts the positive and negative jumper leads at risk of shorting on each other, which can create sparks or lead to a battery fire or explosion. Be exceedingly careful making the connection, particularly if you're in a fire danger area. I was blessed with a truly petite set of leads which were close to perfect for the task. If your jumper leads are just too big, you might have some luck if you can scrounge up some metallic objects or scraps of wire to cram into the terminals to make an adapter of sorts. See what you can come up with, but be careful doing it.
The other major problem is one of voltage. Automotive electrical systems operate nominally at 12 volts; in practice the system sees anywhere from 10-15 volts in use, due to varying loads and alternator outputs. This is readily visible if your car has a voltmeter installed on the dash. Higher voltages can damage components in the car's electrical system, particularly in newer cars and those with electronic fuel injection. So how do we get away with this? Well, in one respect, sheer dumb luck. I was well aware that my battery was very dead – the car battery was reading less than 10V on the voltmeter. This is below the point at which the battery begins to undergo sulfation, which can cause permanent damage. Knowing this, I was confident that my relatively small drill battery (with a capacity of just 2.4Ah) would likely see its voltage drop significantly when connected to a load consisting of an almost entirely drained lead acid car battery. This is much less likely to do damage than if you were to do something intentionally silly like connecting a full 18V drill battery directly to delicate components such as the ECU. If you're having a good day, in the short-term, you'll likely be fine. That said, take this on at your own risk, and keep in mind that some cars don't like being jump started at all.
The final problem is one of capacity. If you've got a big, strong drill battery, and a small compact car, you're fairly likely to succeed. I had a medium-sized drill battery, at 2.4 Ah, and a 1.6 L four-cylinder motor to turn over. You're less likely to be successful trying to turn over a 6.9 L Cummins with a half-charged 1.2 Ah drill battery. You can always give it a go, though.
Well aware of the risks, I decided to press on anyway, and connected the drill battery to the car battery, ground to ground, positive to positive. It was then as simple as turning the key, and with a self-satisfied bark – my engine sprang to life! Success! I was then sure to immediately disconnect the drill battery, lest the alternator back-charge it and cause damage.
Overall, I was remarkably pleased and made it home well in time for supper. What's more, I later threw the drill battery back on charge and it had seemingly suffered no ill effects whatsoever! Hopefully this can get you out of a tight spot one day – it's a useful trick to have in your toolkit!